A playground in a popular park on Avenue Road in Acton has been completely refurbished – with a new giant slide and fully accessible trampoline among the improvements added following consultation with local people.
The work has been carried out at Mill Hill Park, on Avenue Road (W3), as part of a £250,000 investment secured by Ealing Council alongside partners L&Q and the developer Countryside.
Councillor Deirdre Costigan, cabinet member for climate action, joined families and residents in the park earlier this month (10 June) to officially open the playground. She got a first-hand look at how it is already making a difference in the local community.
The facilities have been specially designed to provide exciting play for all ages and abilities, as councillor Costigan explained: "There is a really great array of different things to keep children entertained and happy here – from swings and slides, to a trampoline and separate play area for toddlers.
"The 'big slide' was much-loved by people here, which is why we have included a new, big one, and in addition, a new accessible wide slide.
"It really does cater for different age groups and abilities, creating a safe and fun play area for all families. A number of features are accessible for use by disabled children, for example the trampoline is at ground level and suitable for wheelchair use and there is a bouncy boat as well, designed with this in mind.
"New seats and litter bins and improved paths and gates for the surrounding park have all been added as well.
"But that is not all because, as part of our biodiversity action plan, we are expanding flowering meadows, hedges and tree cover in the park, too, to help attract and support birds and insects."
The playground was originally built decades ago and was in need of renovation.
"It was coming to the end of its life," said council leader Peter Mason. "We know how loved and valuable it is to the community which is why we have worked to secure investment to ensure new, modern facilities can be enjoyed by local people here long into the future.
"Residents and park users have been given a central role in developing the idea for how to make Mill Hill Park ideal for the community it serves through a consultation and we worked with parents of children with special needs to find out what play equipment they would like to see from this refurbishment."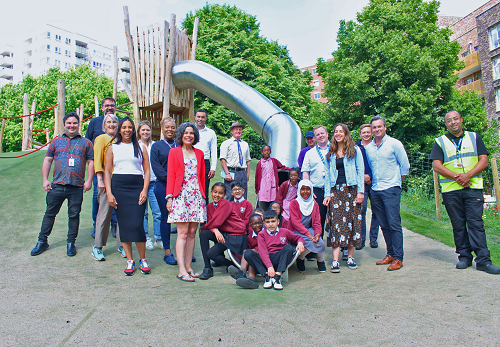 Funding to completely refurbish the park is coming in two phases as part of the surrounding Acton Gardens housing development, and a second phase of park improvements linked to the ongoing development will follow in the future. It is all part of the council's commitment to creating 10 new parks and open spaces and giving back to nature 800,000 m2 – the same as 130 football pitches – through re-wilding and re-introducing wildlife, and pioneering 10 new community growing spaces in housing estates and new developments.
Daniel King, Managing Director of Countryside, added: "Part of over 4.69 hectares of open space being created at Acton Gardens, we are delighted to open the first phase of Mill Hill Park's refurbishment alongside the council and L&Q.
"We' are committed to making a positive contribution to health and wellbeing in the local area and so we are thrilled that the park is already being used so well by the local community. As the regeneration continues to progress, we are looking forward to working with the council on the second phase of the park."
Darren Parker, L&Q's Director of Development and Regeneration, said: "We're proud to have contributed to improving this much-loved playground and helping to ensure residents have a beautiful place to exercise, play and enjoy being outdoors in nature. We're also committed to sustainable development and giving wildlife a helping hand to flourish in our communities.
"The input we have had from the residents has been invaluable, and we are pleased to have been able to work with them to create an area that can be used by everyone."
Find your local park online at the council's website. The council has also kickstarted a programme of investment to tackle climate crisis and help local people walk, cycle and scoot wherever possible.