A local primary school was visited by fitness coach and author Joe Wicks as part of a TV documentary on the importance of mental wellbeing and on children coping when they have parents with poor mental health.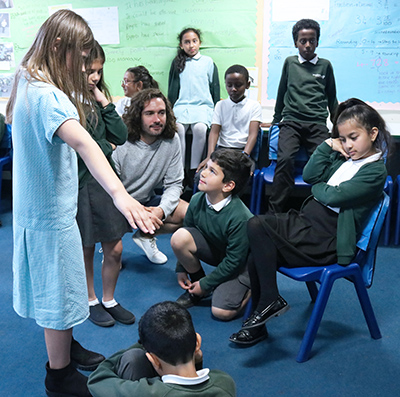 The 'PE teacher of the nation' during the COVID-19 pandemic dropped into Woodlands Academy School in Hathaway Gardens, Ealing. He took part in a workshop and met pupils before running an en-masse workout for the children in the playground and talked about the importance of physical exercise for their mental health.
It came about as part of a BBC One documentary due to be aired at 9pm tonight (Monday 16 May), which is described as Joe going on an emotional journey to discover how his parents' mental health issues affected him as a child and discovering the scale of the problem today. It was filmed by Mindhouse Productions.
Woodlands was chosen for the film because it has been providing pioneering lessons about parental mental health, with the help of Our Time, a charity that works to support children whose parents have a mental illness. And the school also has a strong focus on pupil and family well-being in general.
Statistics show that around one-in-three children have a parent with poor mental health, and they are three times more likely than other children to go on to face similar difficulties themselves. With the right help, however, they can break this cycle.
'This kind of work is so powerful and important'
In making this film, Joe got to see the benefits of talking openly about mental health and how it helps to break down the stigma, confusion and isolation often faced by children in these circumstances.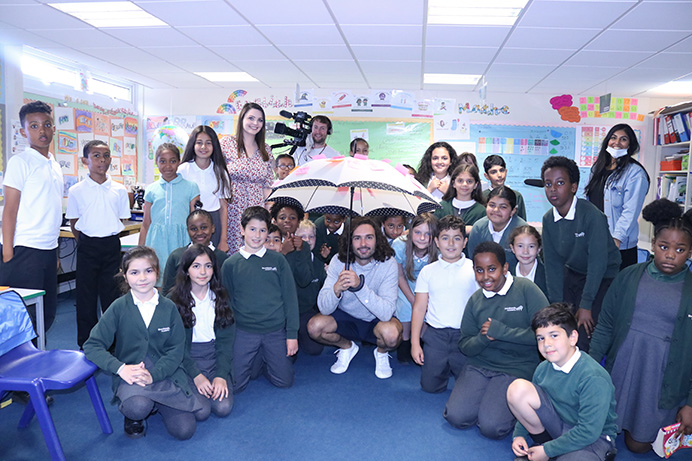 As part of the documentary, he spoke to the Our Time chief executive, psychologist Dympna Cunnane, to better understand the issues involved and what help is available for children growing up in similar circumstances to his own childhood. He later spoke on the charity's podcast My Family, Mental Illness…and Me.
He said: "I left that place feeling really uplifted. I was sad though, because I thought 'this is one charity that's doing it in the whole of the UK'. And I thought 'this kind of work is so powerful and so important that it really should be in every single borough in the country'."
He added: "I'm really glad that I got to meet Our Time and the work they're doing, because it's really uplifting. I felt like it was a really positive step and an amazing initiative that, if it gets rolled out and more people get access to it, it's going to save a lot of lives and it's going to transform a lot of children's lives as well."
'We value the importance of talking about feelings'
Lauren Moxom, acting assistant headteacher at Woodlands, is also the school's wellbeing lead. She said: "Woodlands Academy has prioritised mental health and wellbeing for several years since 2018. Throughout the pandemic, the need for this support became greater and we were proud to be working with Our Time to help our pupils and their families.
"As part of the Our Time PSHE lessons, children discussed the importance of being aware of mental health. The series of lessons were based around a story involving a young girl whose parent was experiencing mental health issues. The lessons were engaging and gave children the opportunity to identify different emotions, the role of our brain in dealing with emotions and ways to protect our mental health. We value the importance of talking about feelings in our school and our children know they can use the Worry Boxes and Calm Corners to help express themselves and regulate their emotions.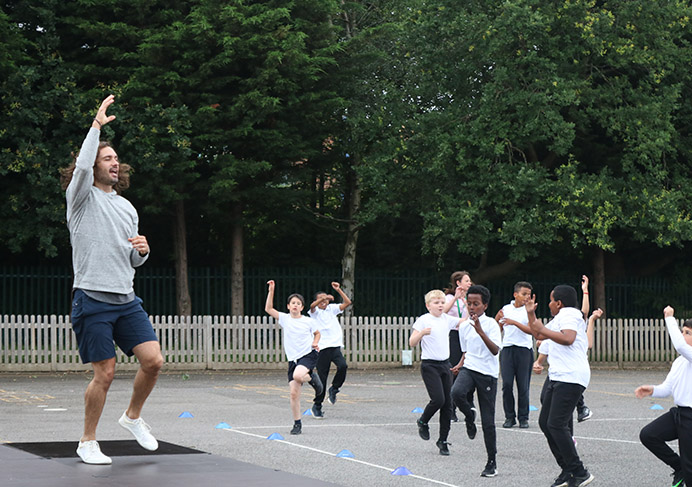 "The visit from Joe Wicks allowed us to highlight the positive impact that talking about mental health can have and gave us the opportunity to celebrate the fantastic work we have been doing with Our Time. We continue to work with the charity and are currently involved with their 'Move for your Mood' programme, which promotes exercise as a way of maintaining positive mental health. We also host their monthly Kidstime workshops in our school, which is a safe space for families to discuss mental health."
'Vital to break down the stigma'
Dympna Cunnane, Our Time's chief executive, said: At least three million children have a parent with poor mental health, so it's fantastic that Woodlands Academy addresses this issue openly in lessons. We are really proud of our partnership with the school; and to see it featured in Joe Wicks: Facing My Childhood; and also of our partnership with Ealing Council, which supports our local KidsTime Workshop.
"It's vital to break down the stigma around poor parental mental health, so families can receive the support they need. By talking about it in schools, we can show children they are not alone, and help them understand what their parents are experiencing. That way they can share their worries, ask questions and seek help if they need it."
'Building pupils' resilience and confidence'
Councillor Kamaljit Nagpal, Ealing Council's cabinet member for a fairer start, said: "Children whose parents suffer from poor mental health face unique challenges and they need our support to have a fair start in life. It a less well-known issue than many, so I think it is fantastic that this documentary, featuring Joe Wicks, has been made to help raise awareness of it. I'm proud that Woodlands was chosen as an exemplar school for its work supporting pupils and families. Its partnership with Our Time has clearly been having an impact on their lives and in building pupils' resilience and confidence – both for now and for their future."
Photos by Alexandra Thompson