As the sun is coming out, and it feels like summer has at last arrived, it is a good time to get out into the garden more and enjoy nature, and what better time for the Short Breaks Respite Service in Hanwell to open their new garden space.
To celebrate the garden uplift and the results of their recent CQC inspection, which found that the service passed in all areas – from safe, responsive and well-led environment – with an overall rating of good, the team hosted a Learning Disabilities Week garden party in the summer sun.
The Hanwell Short Breaks care home provides respite services for families and carers who support adults with learning disabilities, aged 18+. "The new garden fits in perfectly with the philosophy of the service," said Councillor Josh Blacker, cabinet member for healthy lives. "The Short Breaks Respite Centre not only provides respite for families and carers, it also provides residents with a short break, a home away from home, a place where people can come and enjoy their time here."
Adding to resident activities
The new garden allows people who come in for a day, weekend, or for longer stays, to bring a new dimension to their stay, it will add to resident activities and improve their sense of wellbeing. The garden has been paved over, to make it safer for residents and wheelchair users, raised flowerbeds will make gardening more accessible, there is a wildflower meadow section, a swing, and a trampoline for everyone wheelchair users.
There are also some new seating areas for socialising and simply enjoying being outside. The garden allows for more sensory activities, including art, hand painting; the centre are hoping to bring in some outdoor games from a giant Connect 4, wheelchair basketball and other mobile games.
"It's wonderful to see people enjoying the new garden"
Attending the open day this week, Councillor Josh Blacker, said: "It's wonderful to see people enjoying the new garden activities, sharing lots of smiles, watering plants and getting involved. It's a great way to promote independence and introduce a new sense of fun to the environment.
"The short breaks service provides such an important role in our community, adding to the quality of life for adults with learning disabilities, and also giving them the opportunity to socialise, maintain their independence as much as possible, and engage in new hobbies."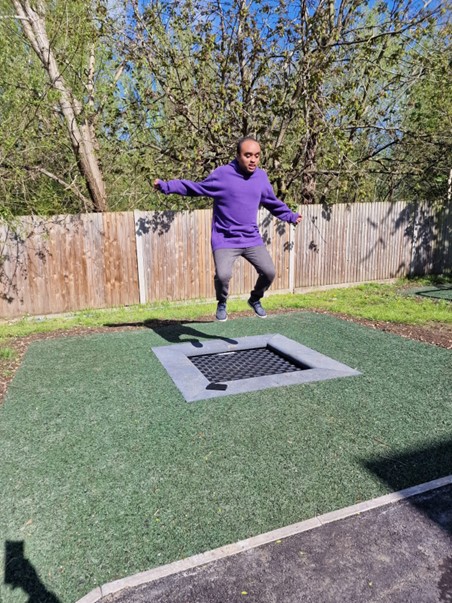 A source of support
The Short Breaks Respite Service is a source of support for people with learning disabilities, as well as families and carers, who are invited to coffee mornings outside in the new seating area. They can share experiences, discuss anything they have been struggling with, and attend specialist talks organised by the service.
The centre provides a range of activities and follow the client's individual care package to make sure activities are tailored to their interests, hobbies, and needs, aiming to promote independence, self-confidence, and enjoyment. The staff aim to fit the activities to the person's interests as much as possible, for instance, if they want to listen or dance to music this is they can, they will make sure they also consider their taste and culture.
Encourage independence
At the service people are encouraged residents to get out into the community as much as possible, and they can get involved in art, baking, going for a walk by the canal, or popping out for a coffee or to the shops. The team also support people using the service to be as independent as possible, residents to be as independent as possible, helping to build self-esteem and quality of life. They can get involved in anything happening at the service, from making breakfast, to a spot of gardening.
The garden uplift was completed end of March2023. The design was developed by the team with help from the Ealing Parks Team while volunteers from neighbouring garden charity Cultivate London and their corporate volunteering teams prepared and planted the flower beds.