Do you have Christmas shopping still to do? Avoid the crowds and hassle of heading into town and visit your local high street for your final bits instead. While you are there enjoy the Christmas trees and festive lights that have gone up across the borough.
The lights will be switched on until Friday, 7 January and can be enjoyed in 10 locations around the Ealing including: Acton, Ealing Broadway, Hanwell, Greenford, Northfields Avenue, Northolt, Perivale, South Ealing, Southall, West Ealing.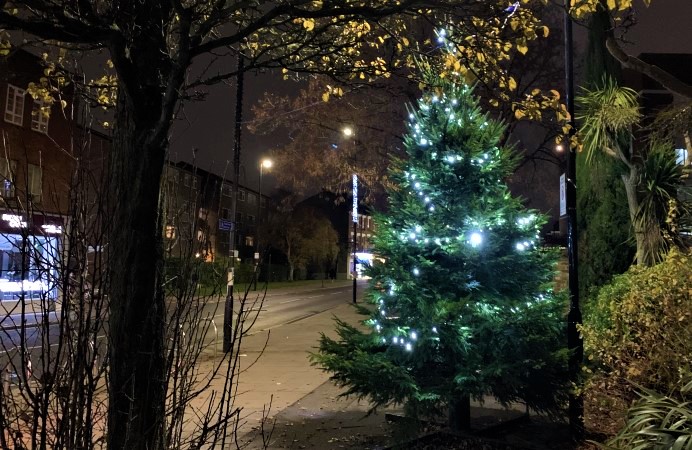 In addition, Christmas trees have also been installed in Ealing Broadway, Greenford, Hanwell, Northfields Avenue, Northolt, Pitshanger Lane, Southall, South Ealing, and West Ealing.
Councillor Bassam Mahfouz, cabinet member for decent living incomes, said: "With many local businesses facing another tough winter season, we hope the lights and trees will bring a bit of Christmas cheer to our high streets and lift the spirits of our communities.
"We are also calling on our residents to get behind our businesses and show your support in whatever way possible. Even the smallest purchases make a big difference and shopping local means you can pick up what you need same day. If you are feeling the pinch, you can still show your support by sharing and interacting with your favourite businesses on social media to help spread the word." 
Residents are reminded to observe the latest government guidelines, unless exempt, by wearing face coverings and following any restrictions put in place to help keep people safe.
Provided by Ealing's High Streets Task Force, the festive decorations are part of its work to help our high streets and local business to recover from the pandemic and thrive.
By choosing to support local businesses, residents are supporting local jobs, community businesses also generate money to support local charities and fund local services, such as libraries, parks and roads that benefit everyone.
Welcome back funding
The Christmas lights and trees are provided thanks to funding that Ealing's High Streets Task Force has received from the Reopening High Streets Safely Fund and the Welcome Back Fund from the England European Regional Development Fund, as part of the European Structural and Investment Funds Growth Programme 2014-2020.
The Ministry of Housing, Communities and Local Government and the Greater London Authority is the Managing Authority for European Regional Development Fund.
Established by the European Union, the European Regional Development Fund helps local areas stimulate their economic development by investing in projects which will support innovation, businesses, create jobs and local community regenerations.