Work has started on a project to reduce the risk of flooding on town centre roads in West Ealing, whilst providing an attractive new 'rain garden' for local wildlife.
The first project of its kind in London, it uses a natural stone wool material instead of the usual plastic, to create a sustainable drainage system (SuDS), which will divert storm water from the high street and also create a new habitat for wildlife along the north edge of Dean Gardens.
Plastic crates have traditionally been used to build solutions to prevent flooding, which meant that lots of plastic went into the ground. In line with council's ambition to make Ealing net zero by 2030, the new drainage system uses non-plastic soft blocks with attached pipes.
The innovative system will collect storm water from the highway and slowly release it into the surface water sewers, acting as a temporary reservoir.
Councillor Deirdre Costigan, Ealing Council's deputy leader and cabinet member for climate action, visited the innovative scheme on Monday, 3 July.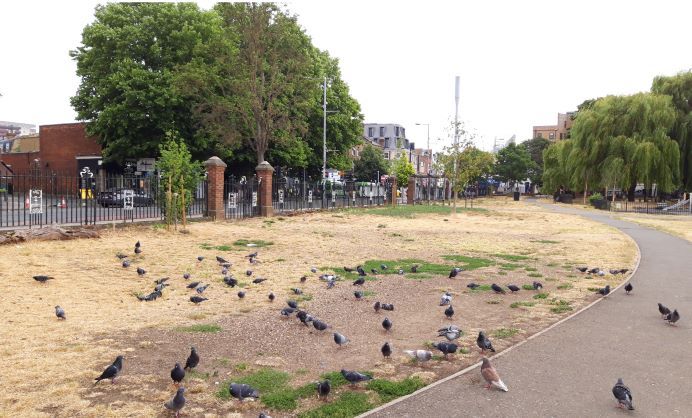 Directly above the rainwater storage system will be a wildlife-friendly, flowering meadow, providing a new habitat aimed at attracting butterflies, bees, birds and amphibians (above left, area to be developed, right, artist's impression of eco meadow). This has been come to be known elsewhere as a 'rain garden'.
Councillor Costigan said: "I really love this project because not only will it reduce the risk of sudden flash flooding on the Broadway, it also creates a beautiful new rain garden which can be enjoyed by wildlife and by all visitors to Dean Gardens."

Residents took part in a free gardening event at the gardens last Wednesday, 28 June, potting and taking home beautiful wildflower seeds. There will be regular free planting activities at Dean Gardens. Keep an eye on the council's Facebook and Twitter so you can take part.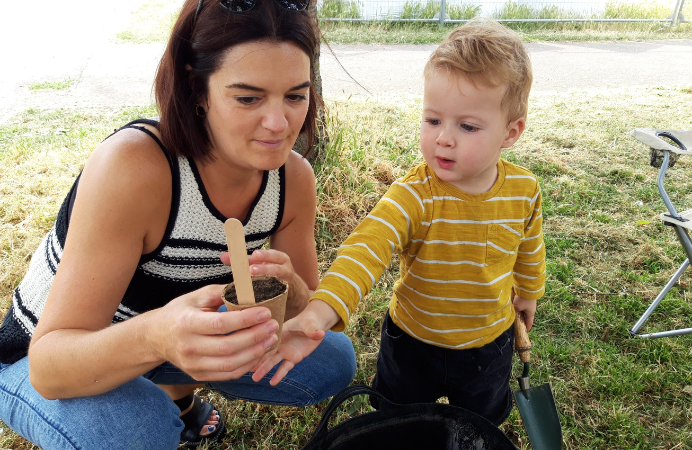 Flood protection
The project, which is jointly funded by the council and Thames Water, supports the council's climate and ecological strategy, which includes defending the borough from flooding.
The first phase of the SuDS works will be completed by 21 July with further works and planting activities taking place later in the year. Dean Gardens will remain open to the public during the work.