Ealing Council's continuing pledge to plant trees, tackle climate crisis, boost biodiversity and green the borough has been recognised with prestigious Tree City of the World status.
The international accolade, which comes as the borough marks Climate Action Week, has been awarded to the council for the third year in a row and is reserved for the most successful approaches to managing urban trees and woodland. It elevates the borough into network of 'Tree Cities' spanning 17 countries across Europe, North and South America, Australia and New Zealand.
It also comes with the announcement from, Councillor Deirdre Costigan, cabinet member for climate action, that the council is investing £3million in planting 50,000 trees and working to increase the tree canopy to 25%, to help make local streets and open spaces beautiful and resilient and fight climate crisis.
'Green spaces and biodiversity matter to us'
"Climate Action Week is the perfect time to highlight the vital role trees play in creating a beautiful neighbourhood and enhancing our local ecosystem and biodiversity said Councillor Deirdre Costigan.
She continued: "They also provide everything from shade, flood protection and drainage, to a greener and calmer environment which aids people's mental wellbeing. I'm delighted that Ealing has once again been recognised as a Tree City of the World but when you take time to walk through our parks and up and down our streets and see just how much green space there is in the borough."
She explained: "Green spaces and biodiversity matter to us, andas we tackle the climate emergency we are delivering an ambitious local strategy that includes planting 50,000 trees and increasing tree canopy to 25% of the borough.
The council plants a wide variety of tree species across the borough meaning there is great species diversity many areas in Ealing, from lime and oak, to cherry, maple, sorbus and apple. Regular inspection, maintenance and pruning is carried out where required by the council's parks team on a three-year rotation.
Councillor Costigan said: "Having an extensive and expanding tree canopy here in Ealing is vital as we look to tackle climate emergency and enhance our biodiversity.
"Our parks, green spaces and cemeteries support some of Ealing's oldest and largest trees. These giants of our parks display the many benefits of trees on a grand scale, offering vast areas of shade, filters for air pollution, and valuable habitat for wildlife and creates links between these green areas.
"But smaller trees lining our roads and streets also play a vital role and there are so many proven benefits to people's physical and mental wellbeing of having a green and pleasant borough."
'Celebrating our trees with the community'
The council marked its commitment to tree planting and greening by holding Ealing's first ever Tree Festival last month. Brought to the borough in partnership with the environmental charity Trees for Cities (TfC) and the Heathrow Community Trust, the festival was hosted at two of the borough's most beautiful green spaces, Southall Park and Litten Nature Reserve.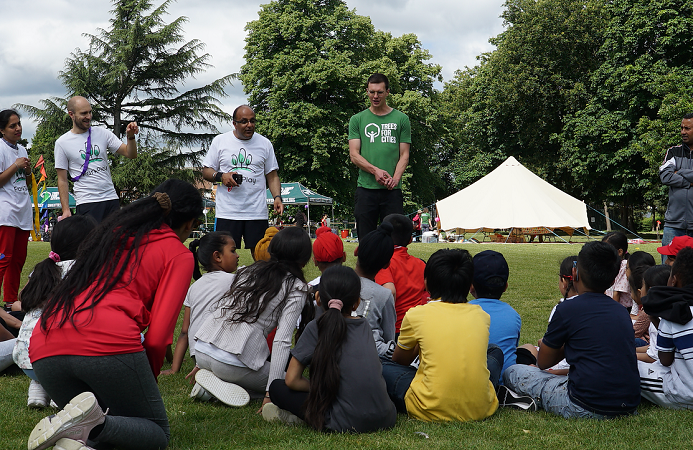 It proved the ideal event to celebrate Ealing's urban trees and residents of all ages took part in a range of fun activities and find out about the many types of trees found in Ealing, and how the council is managing the local greenery to enhance biodiversity and create a more pleasant borough for all.
Councillor Costigan continued: "We are delighted to continue our work with TfC and build on the success of Ealing's first ever Tree Festival into the future with our ambitious plans for greening the borough."