People who live in, work in or have connections to Northolt are being invited to have their say in an exciting regeneration project called 'Visions for Northolt'.
In October 2021 the council, together with Transport for London (TfL), was successful in securing £7.2 million which will be used to address some of the issues local people have already identified, such as easing congestion, improving road safety and addressing air quality along the A312 and Kensington Road corridors.
And the council is now asking residents and businesses to get involved in the Visions for Northolt programme once again.
In-person and digital workshops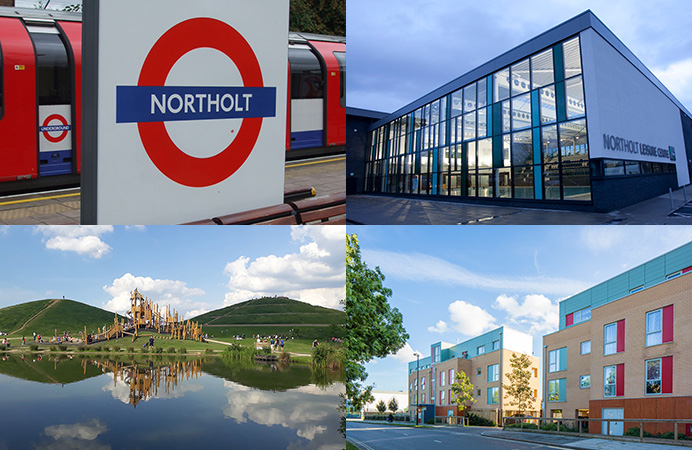 Last year, Ealing Council worked with local people and listened to their thoughts and ideas to develop a community-led vision for the future of the area, which is all about ensuring that future investment in Northolt reflects the priorities, needs and aspirations of local people.
Between now and summer 2022, Northolt's communities are being invited to attend a series of walking workshops, digital sessions and pop-up events to have their say on how this funding should be used.
The following events have been organised in May 2022. Please register for one or all events:
Wednesday 11 May, 12.30pm to 1.30pm: A walking workshop around the White Hart Roundabout area in Northolt.
Saturday 14 May, 12.30pm to 1.30pm: A walking workshop around Kensington/Ealing Road area.
Saturday 14 May, 3pm to 4.30pm: A walking workshop around the Church/Mandeville Road area.
For those unable to attend these in-person events, a series of digital workshops held on Zoom have been arranged, to give you the opportunity to share your ideas and comments to improve walking and cycling in the area and also how to improve Northolt's economy and High Streets offer.
To register for each event, click on the date that is convenient for you:
To have your say on what changes you would like to see take place to Northolt's high street areas, please register for the event by choosing one of the dates below:
Alternatively, you can give your comments and ideas online by taking part in this short survey.
Competition for young people
Young people aged between six and 18 can take part in a design competition where the winners will have their designs turned into temporary street signage and displayed around Northolt later this year.
This is a great opportunity for young people to see their efforts reflected in local change while celebrating and promoting local businesses and community assets.
To find out more please visit the Visions for Northolt website.