Christmas lights will be twinkling and, inevitably, Santa is likely to be dropping by once or twice; so, why not get down to your local town centre to enjoy the build-up to the big day?
Chances are, you will be able to find mulled wine, carol singing, mince pies and everything you need to buy for Christmas. And, if you time it right, you might even bump into Mr Claus.
Saturday, 7 December is also Small Business Saturday. It takes place on the first Saturday in December each year and encourages residents to support small businesses in their communities by 'shopping local'.
Many small businesses take part in the day by hosting events and offering discounts – so you might be able to grab yourself a Christmas bargain.
Paul Najsarek, chief executive of Ealing Council, said: "Christmas is such an important time for our town centres – which are at the heart of our communities. Spending your money locally will help our businesses and employers to survive and thrive and to keep that commercial heart beating.
"There are fantastic, festive markets held all over our borough – selling everything from artisan foods to handcrafted jewellery. If you have not yet bought all of your Christmas presents, this is the perfect time to pay them a visit and get some gift ideas – and pop into the cafes, restaurants and shops while you are there."
Christmas lights and a tree
This year, the festive atmosphere will be helped by festive lights decorating the borough's town centres of Acton, Ealing, Greenford, Hanwell, Southall and West Ealing. The lights will be up by the end of November.
They have been funded with the help of sponsors. Ealing Council received sponsorship for the lights from Pure Heaven, St George, Greystar, Berkeley, Greyline, McDonald's, Heathrow and Live West Ealing. Without their support the festive lights would not have been possible.
Meanwhile, on Friday, 29 November, a Christmas tree is being placed in Elizabeth Square (next to Christ the Saviour Church) in Ealing Broadway like last year. It is being funded by Dickens Yard developer St George.
What is happening locally?
To give you an added incentive to shop on your doorstep, there are always lots of activities taking place locally in the build-up to Christmas Day, and you can get a taste of some of these below.
At Ealing Broadway Shopping Centre, there will be a Christmas market in its central square filled with winter-style chalets selling all kinds of festive fare. It will be open every day until Christmas Eve, Monday to Saturday from 10am-6pm and 11am-5pm on Sundays.
A 'Magical Wardrobe' themed Santa's grotto will welcome children free of charge – allowing them to pass through into a winter wonderland of Christmas trees and lights, where they will find Father Christmas and his elves.
The grotto is now open every weekend until Sunday, 22 December between 11am-5pm. Children will be able to get a picture with Santa, share their wish list and even collect a gift from the man himself. There will also be collections where shoppers can make a voluntary donation to local charities.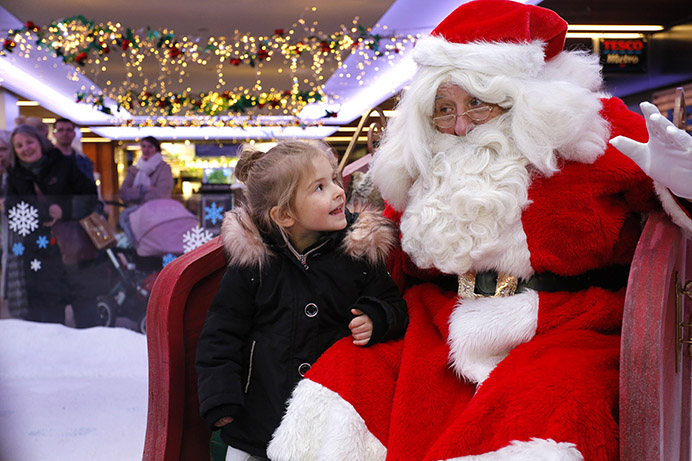 A local choir will also be on hand at the shopping centre, singing Christmas carols on Thursdays and Saturdays throughout December. New decorations include a five-metre-tall reindeer located in the central square, which shoppers will be invited to name through social media in the coming weeks.
On Sunday, 1 December the Pitshanger Lane Light up the Lane event returns to Ealing, with a Christmas market and its usual mixture of community-organised entertainment, shopping opportunities, food, craft stalls, choirs and much more.
Chiswick Park Events Plaza (close to Acton Town and Chiswick Park Tube stations and South Acton rail station) is being taken over by a 'Festive Fayre'. There will be a light display, children's activities, a photo booth, food stalls, craft workshops, live music and funfair rides. The event is free to attend and open to everyone on Thursday, 5 December between 5-7pm; and Friday, 6 December 12noon-2pm.
If you are in West Ealing, make sure you visit the Christmas market at the Avenue Vintage & Antiques Market (AVAM), on Saturday, 7 December. Between 9am-5pm there will be more than 25 stalls featuring a treasure trove of goods including costume jewellery and vintage clothing, decorative arts and prints, collectibles and 'shabby chic' furniture.
Meanwhile, West Ealing Christmas Fair will take place on Saturday, 14 December between 12noon-4pm in Melbourne Avenue. This is a family-led event with activities for children including meet the donkey, face painting, a balloon artist and a visit from the man himself, Father Christmas.
Local children will perform a nativity play and there will be musical acts from local bands and musicians. Craft stalls will be on-hand selling Christmas gifts, fragrances, jewellery and locally produced apple juice.
Acton Market, meanwhile, is sure to take on a seasonal flavour. It opens every Wednesday, Thursday, Friday and Saturday between 10am-5pm in The Mount, outside Morrisons.
Holding an event?
If you are holding a Christmas or winter event, why not submit it to be listed free of charge on the council's online What's On pages?