"I can't think of anything worse than being stuck in front of the TV all day," said 100-year-old local resident Beryl Carr after receiving recognition of her 20-year contribution to volunteering at Ealing Hospital.
She was awarded a certificate at a meeting with mayor of Ealing, Councillor Munir Ahmed, at Ealing Town Hall this week.
Beryl was born in Acton in 1922 and celebrated her 100th birthday in January. She has been a hospital volunteer since 2003 at her daughter Val's suggestion.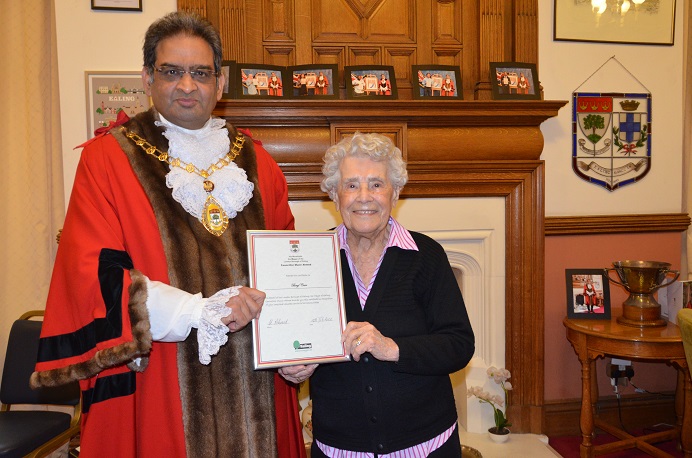 Mother and daughter went to the town hall together; along with Ann Cousins, who is the manager at the hospital's Friends Café – where Beryl does her volunteer work. They joined Councillor Ahmed in his offices for lunch and to receive the certificate.
They were also joined by council leader Peter Mason and Ealing's three local MPs, Rupa Huq, James Murray and Virendra Sharma.
Infectious enthusiasm
Councillor Munir said: "Having now met Beryl I can understand why she is so popular with the staff, other volunteers, patients and visitors at the hospital. Her enthusiasm is infectious, as is her smile."
Beryl said: "Volunteering is something I would recommend to anyone regardless of their age. You are helping others but also you are helping yourself as well. I can't think of anything worse than being stuck in front of the TV all day, I really enjoy volunteering and enjoy the social side of it as well."
Fantastic ambassador
"What a fantastic ambassador Beryl is for volunteering," said Councillor Mason. "Having moved back into the area she was born in after many years away, she found an opportunity to really connect with others in the community. And while she would say 'well, I make a few sandwiches and serve some tea', in reality she is providing support and comfort, often at times that visitors, patients and those who work at the hospital are going through the most distress."
If, like Beryl, you would like to consider volunteering, you can find out more on the Do Something Good website.