A new community cafe in Acton is offering career path opportunities for teenagers with special educational needs.
The Hub was opened this week (Tuesday, 5 April) in Old Oak Common Lane. It was set up by social enterprise TCES Group, which provides specialist education to students aged seven to 19, many of whom have been permanently excluded from other schools before reaching TCES.
The new community cafe will serve up fresh opportunities for neurodiverse students aged 16 and over who are based at the TCES North West London school, also in Old Oak Common Lane, which receives funding from Ealing Council and has been rated 'outstanding' by Ofsted.
It will help them to gain work experience and GCSE, BTEC and industry standard qualifications in catering and food technology, hospitality and customer service, food hygiene, health and safety and business studies.
'Opportunity to build a valuable portfolio'
A green paper on special educational needs (SEND) presented to the government recently outlined the difficulties young people with SEND have in finding employment.
Ishamar Blake, headteacher at the school, said: "At TCES we know the odds are already stacked against the children and young people in our schools when they enter the job market. Office for National Statistics figures show, for example, that just 22% of autistic adults are in any kind of employment.
"We are determined to play our role in addressing this disadvantage in every way we can. We will never give up on the exceptional students who come to us, often after traumatic experiences of permanent exclusion from other schools.
"The Hub cafe offers young people the opportunity to build a valuable portfolio of experiences and qualifications working across a range of roles, which they can show to employers. By opening our cafe to local community groups, churches and as a place to meet for vulnerable and lonely people, students will also build the self-esteem that comes from giving back to society.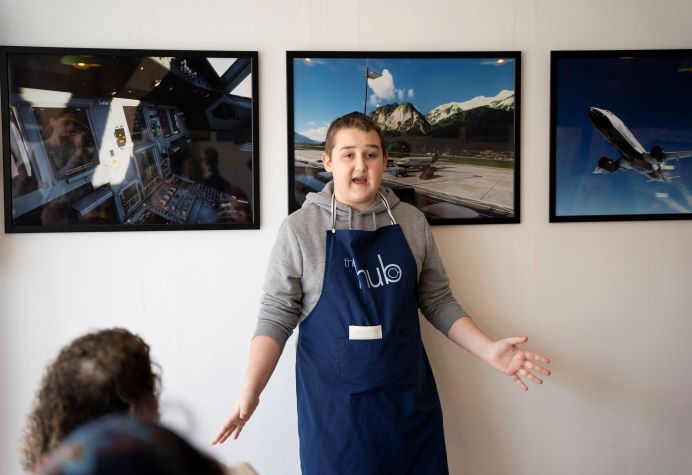 "The Hub will open just to our younger students and staff in the first instance as our post-16 students build their confidence and expertise. By September we aim to be serving the local community with reasonably priced tasty meals and drinks and providing a welcoming space for local events and get-togethers."
As well as providing an opportunity to gain qualifications, The Hub will support multiple areas of the TCES curriculum including literacy and communication, numeracy, PSHE and the award-winning TCES LIFE Programme.
'It will give me confidence'
Student at TCES, Bailey (pictured) said: "My ambition is to become a paramedic. I've been through a bit of a rough patch in my life, and I want to help people with their lives. The cafe will really help me to build my skills in interacting with people and working with the public. It will give me the level of confidence I need to be outside in the real world."
TV personality and campaigner Esther Rantzen, a TCES patron, said: "What drives TCES is the refusal to give up on those children and young people that others have simply found too difficult. Opening this brilliant cafe on a busy high street is not only an opportunity for students to shine, but also for the whole community to see that young people who are neurodiverse can live rich, fulfilling lives if offered the right support and acceptance."
The Hub is the first of the Enterprise Centres that TCES aims to open in London to develop sustainable work-based learning opportunities for neurodiverse students. Each centre will be linked to a TCES school but operated separately.