Did you know there are now twice as many foodbanks in the UK as there are McDonald's restaurants? With a hard winter ahead, they are in higher demand than ever.
The fast food chain is a very familiar sight for all of us, wherever we go, and McDonald's own website states it has 1,270 restaurants around the country. But, according to the Food Aid Network, there are at least 2,565 foodbanks. This comparison helps to show how many people now rely on help. And the cost-of-living crisis has been making things worse.
Ealing Foodbank is an independent Christian charity affiliated with the Trussell Trust network of foodbanks in the UK. It has a warehouse and main base at St Mellitus Church in Hanwell – and now also runs client centres at six other locations around the borough.
As part of the Ealing Together coalition with the council and other local organisations, the foodbank was central to the response to COVID-19 but has continued to be critical to everyday life.
You need a unique code and vouchers to use foodbanks, and to get those you need to be referred. The most common types of referrals to foodbanks come from job centres, housing charities like Acton Homeless Concern and EASE, a local community development charity. But, Ealing Foodbank actually has more than 200 referral partners, including schools, local charities, health visitors and the council's local welfare assistance service. There is also a national freephone hardship number if none of these apply to you, which you can call 0808 208 2138 (Mon-Fri, 9am-5pm).
'Busiest in London'
"Ealing is the busiest Trussell Trust foodbank in London, which is not necessarily a badge of honour," said Jeremy Hyde, the interim manager of Ealing Foodbank. He is also a trustee and a part-time volunteer.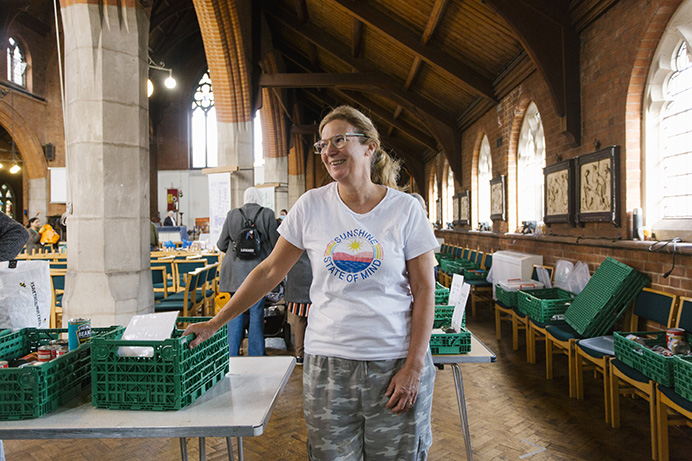 "In the first six months of 2022, we were helping 19,542 adults and children – which is 35% more clients than the same period in 2021. And it is also 7% higher than the number we were helping during the height of the COVID-19 pandemic the year before that, when demand had gone up so much, so quickly.
"And this is all before the cost-of-living crisis really hit. Our resident statistician Dave Newsome produced the figures and, when he did so, it really was a sobering thought."
"The queue is longer than we've ever seen," confirmed team leader Charlie Lakin. "It's busier than in the pandemic."
Food donations needed
"Food donations have gone down," continued Jeremy. "Not least because the crisis is affecting local people who used to donate. And we are having to spend on food to top-up our stocks.
"In September, we gave out 2,000 kgs more food than we took in through donations.
"And, in another month, we gave out 30 tonnes – which I worked out is the equivalent of 75,000 cans of baked beans."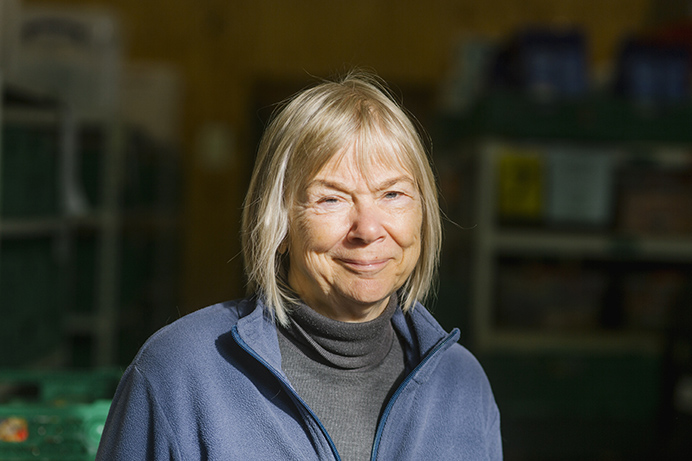 Hilary Padmore, the foodbank's warehouse manager, added: "Donations are lower but demand is rising again after going down a little after the peak of the pandemic. We are very short on everything at the moment.
"Basically, we need everything – except pasta, which is the one thing we seem to have plenty of.
"Donations peaked during the pandemic – and, since then, lots of people are back to their normal life and it may have dropped off their radar a little, while others are now struggling too much to donate.
"At the peak, we were getting seven or eight tonnes of donations a week, whereas now it is more like two or three tonnes. We are having to fund the gap.
"Apart from the pandemic, demand has generally, over the years, not been seasonal – it's been fairly stable throughout the year. But most of our centres are seeing a significant increase and we assume that trend will only continue."
'A lot of anxiety'
"It is more than just food here, of course," added Jeremy. "The support and advice provided here aims to help clients get into a position where they no longer need to use a foodbank."
Crosslight, a charitable organisation, provides in-depth debt and benefits advice at the foodbank; and further, wide-ranging support is also on-hand through Help Through Crisis Ealing, which is funded by the National Lottery Community Fund and is a partnership between the foodbank, Ealing and Hounslow Community and Voluntary Service, West London Equality Centre and Ealing Law Centre .
"The situation of many people coming to us now has changed," added Hilary. "In the past, they were largely unemployed – but now a much larger number are employed. They are working but do not have enough money coming in to support their family."
"It's hard at the moment," said Charlie. "There is more embarrassment and angst among some people about asking for help. Some have been desperate and are emotional and thankful when they got the food.
"There is a lot of discussion amongst clients of a choice between eating or heating and a lot of anxiety about how they will get help.
"The financial advisors stay on longer here than we do at the moment, because so many people need help."
In addition, the foodbank also has nappies for babies, as well as some toiletries and even pet food. In some circumstances, other basics like can openers and crockery are provided for those who have been rehoused and are in dire need.
Hilary explained: "If you don't have money for food, you won't have money for other essentials either."
Volunteers needed, too
"Every bit of help from local people, whether through volunteering or donating, will make a difference," said Jeremy.
To volunteer or donate you can visit the Ealing Foodbank website.
Jeremy continued: "Bar a few staff members, everyone who works here are volunteers. I am a volunteer myself. Some of the clients are shocked by that.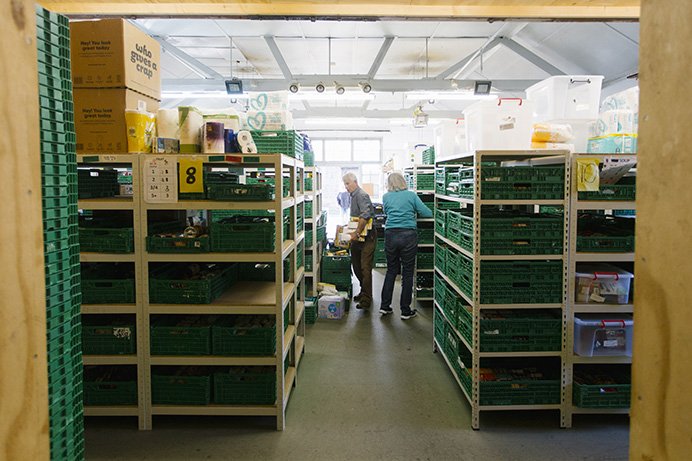 "We are always interested in a range of volunteers, from drivers to warehouse operators and, in particular, client centre volunteers to help process our customers as they arrive. You can find out more on the volunteers' page on our website, under 'give help'.
"We are very fortunate with the people, of all faiths and none, who already give their time and their skills and make sure we are able to help those in need."
Charlie added: "We have a lovely team here and seeing the reactions of so many of the people we are helping here makes it all worthwhile."
Hilary, who has been warehouse manager since 2016, oversees 30 volunteers doing shifts taking in the donations and packing them. And there is also a team of 18 volunteer drivers who use their own cars to then deliver the packages to the other centres around the borough and also pick up the donations left at permanent collection boxes in several local supermarkets.
"We particularly need more drivers," said Hilary.
Why help at the foodbank?
Jeremy said: "My wife and I moved to Ealing five years ago when we retired. My wife had been a foodbank volunteer in Coventry where we lived before, so just before the pandemic struck, we asked if we could help here. We felt incredibly fortunate in every way and feel it is important in our lives to be generous where we can, and the foodbank is an obvious way to do that."
He is currently acting as a part-time interim manager and is holding the fort after the previous manager Janet Fletcher retired in September.
"Janet had been with the foodbank since the start and did an incredible job, including keeping it going through the pandemic," said Jeremy.
The manager's job is due to be advertised in January, so keep an eye on the Ealing Foodbank website for details.