Ealing Council has been working with local businesses across the borough to provide hundreds of apprenticeship opportunities. This includes at housing regeneration projects.
One such project is at Sherwood Close in West Ealing, where 106 new affordable flats are being built in four modern blocks, and a new community space is being created. The project is being carried out by the council's partner Clarion Housing Group and its contractor Durkan.
Durkan currently employs two local construction apprentices at the site. And there are plans for another four to come, working in different disciplines across the teams.
'They can be life-changing'
Councillor Bassam Mahfouz, the council's cabinet member for decent living incomes, visited Sherwood Close this week to speak to the apprentices.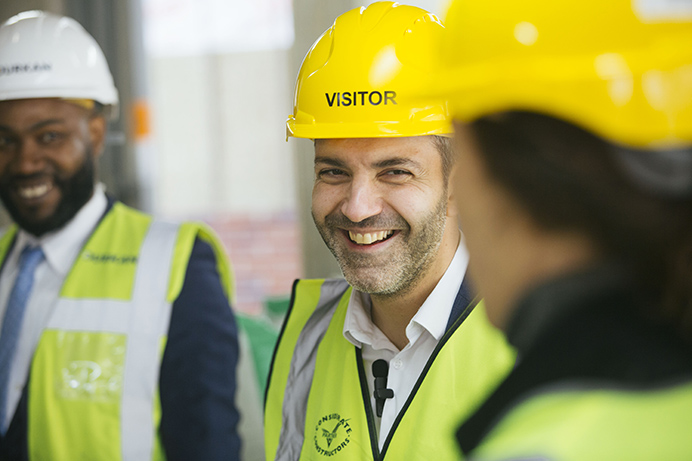 Councillor Mahfouz said: "As part of our plan for Good Jobs for Ealing, we've been promoting the value of apprenticeships, which offer a great route into the workplace or for starting a different career.
"Since April 2018, we've worked closely with training providers and local businesses across the borough to create almost 800 apprenticeships.
"They are a great alternative to university: They can be life-changing and offer a fast and reliable way to get qualified whilst getting paid in a real job."
Mahroof Anwar, regeneration social impact manager at Clarion Housing Group, said "A key part of our social investment programme is about focusing on jobs and training for local people. The built environment can offer really varied work and training opportunities and regeneration projects are a fantastic window into that for local people."
'I like the balance'
Kyle Wilson-Ogutunde is 20 and from South Acton. He is six months into a three-year apprenticeship with Durkan, training to be a quantity surveyor, and is working on the Sherwood Close project.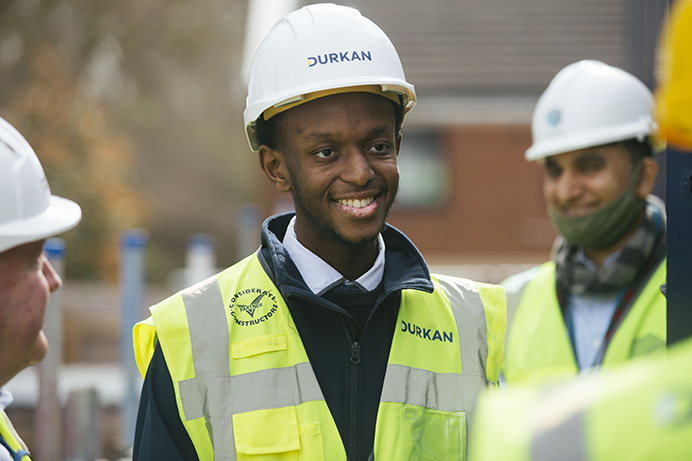 He said: "I like the balance, that was one of the main reasons why I picked it. I get to be on site. I don't want to be in the office all the time.
"I want to go on site and learn how to actually price the buildings, how to talk to sub-contractors, how to negotiate prices. I think that's really important.
"I live locally, so the best feeling is when I'm in my mum's car and I go 'this is where I work' to my mum and my family; and my mum says to people 'this is where Kyle works'. It is brilliant. It's pride."
'It's never too late'
Councillor Mahfouz added: "It's not just young people who benefit from an apprenticeship. They're available to anyone who is at least 16 years old and not in full time education.
"It's never too late to begin an apprenticeship. They come in a variety of subjects and at different levels from entry level to degree level and offer a great route into exciting careers."
'I wanted to develop myself'
Brent Charles is 37 and an apprentice project manager with Durkan, working on the Sherwood Close project. He is on a three-year apprenticeship.
He said: "I wanted to develop myself, gain more knowledge in construction.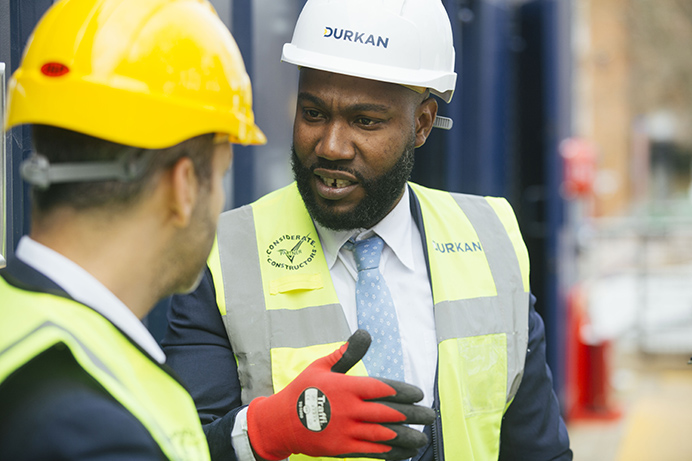 "Being an apprentice gives me the opportunity to be where I want to be and get where my career goals have been set.
"It's been a pleasure working with Durkan. In a few years' time I wish to be at a level where I can produce good quality homes for Ealing and be an asset to people in my community when it comes to the building path of life and construction."
More than 90% success rate
Kevin O'Connor, Durkan's head of social value delivery, said: "It's great that we can get local people into apprenticeships so that they can train, and they can move into employment – but also that they're part of a local regeneration.
"You're going to be fully supported as a Durkan apprentice – we pay the London Living Wage to all of our apprentices – and what I'm really happy about is we've got over 90% success rate in moving our apprentices into permanent employment, post-qualification."
Find out more
If you would like to know how an apprenticeship could change your life, visit the apprenticeship zone on the council's Work Ealing website.