Councillor Deirdre Costigan, cabinet member for climate action visited West Ealing last week to join one of the council's dedicated street cleaning teams on one of its rounds – all to mark the launch of Ealing's Big Spring Clean.
Over the coming weeks, the council's Greener Ealing teams will be working in partnership with fantastic volunteer litter-pickers from Ealing LAGER Can and One Southall to give extra attention to areas across the borough that are not typically covered on the usual cleaning rounds because they are on private land or in inaccessible areas. Residents are also being encouraged to identify areas in need of a spring clean and so the council's teams can get to work to tidying them up and removing any rubbish and fly-tipping they come across.
The Big Spring Clean is the first step in a new investment plan for street cleaning which will give residents more of a say on how their local community is run, as Councillor Costigan explained: "We know that clean, tidy and beautiful streets are important to everyone and that is why we are investing in cleaning up the borough.
"Our street cleaning operatives do a great job. But with our Big Spring Clean we are looking at those areas of the borough that do not normally always get attention because they are in inaccessible places, like under railway bridges – or alleyways that are privately owned, but visible from the public highway. We are aiming to target these sorts of places.
"And we are asking local people to help come up with a list of the places that we can visit this summer. We are also working with great local groups like One Southall and LAGER Can to come up with ideas. They will also be pitching in and doing the cleaning at times because they are so fantastic in everything they do.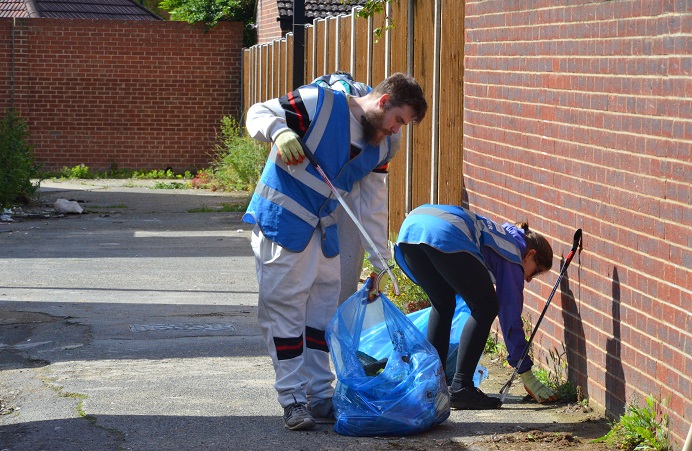 Cathy Swift runs Litter Action Group for Ealing Residents, better known as LAGER Can. She, alongside a team of dedicated volunteers runs regular community clear-ups, giving out litter-picking kits and bags provided by the council, and works with the council to arrange collections of litter – all to help reduce the amount of rubbish left lying around.
Cathy said: "We are on a campaign to clean all the rubbish from all the open spaces in the open spaces of the London borough of Ealing, which is a very big task, but we have 2,000 members and we are very strongly supported by the council, its street services team, and the Greener Ealing cleansing team.
"They all provide fantastic support to LAGER Can. We have a lot of fun while we are doing this, and lots of people have made many, many new friends, so if you'd like to help clean up the borough and make some new friends, please get in touch with us on our social media and we will give you a warm welcome."
Councillor Costigan continued: "We know that it is so important that our borough is a great place to live for all of us, and this is a bit like, once a year, when you pull out the microwave and give it a bit of a clean behind.
"We're doing the same thing for Ealing because we believe in investing in our borough and making it beautiful for all of us."
Help us identify areas in need of a spring clean
How to report a street cleaning problem