The build-up to Christmas is a vital time for local businesses, particularly our high streets. With an array of independent traders and larger retailers too, the borough is blessed with choice for your gift-buying. By choosing to shop locally this winter, you will be supporting local jobs and helping to preserve the heart of your community. And, with Black Friday this week (26 November) and Cyber Monday hot on its heels (29 November), there will be a lot of online shopping taking place too – just make sure you follow the tips for avoiding falling prey to scams.
Reasons to love local
Using campaign group Totally Locally's £5 effect, if every adult in the borough spent £5 a week locally it would be worth a staggering £72million per year to the borough's economy.
Local businesses not only create local jobs but also generate revenue to support local charities and fund local services such as libraries, parks and roads that benefit the whole community. They also often stock unique and locally-made items, are experts at what they do and are ready to help you with whatever your shopping needs are.
And that is not all, sourcing local goods is better for the environment and can save you time and money on travel.
As part of a series on local businesses, we have spoken to a number of independent firms recently and they have all praised the way local people have got behind them.
"It is vitally important people support their local shops," said John Gardonyi, owner of Gardonyi's Musical Instruments in Ealing. "Everyone gets to know people and it is all part of a community. It is priceless and it's what life is all about."
"The winter season, and Christmas in particular, is so big for us," said Brent Wilkinson, the owner of Cheddar Deli in Ealing. "It's been wonderful to see the patronage from customers, even in the bad times like we've all been having. It's a great area."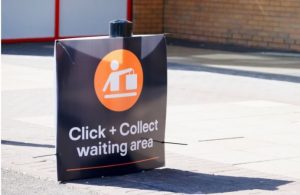 Shop online safely
Lots of local businesses are online now and offer easy ways to browse, order or buy on their websites. So, if you cannot make it out to the high streets or just find it more convenient to shop online, then you can still support local companies.
But, wherever you shop online, make sure you do so carefully.
Action Fraud, the national reporting centre for fraud and cyber crime, recently revealed that more than 28,000 shoppers across the country were conned out of their money when shopping online over the Christmas period last year – an increase of almost two thirds when compared to the same period in the previous year.
Ahead of Black Friday and Cyber Monday, Action Fraud has been warning the public to take extra care when shopping online because reports of online shopping fraud have continued to surge – particularly because so many shoppers have been buying more online during the COVID-19 pandemic.
Action Fraud provides some easy-to-follow tips on avoiding the cons and scams. Read more on the Action Fraud website.
Share the love
We know that many of our residents are facing financial pressures as well. But supporting local businesses does not just mean spending money, you can still share your love for local businesses in other ways too. Using your voice by sharing local knowledge and recommendations on the internet and social media is really valuable to local businesses.
Help your local businesses without spending a penny:
Like, follow and share your favourite businesses on social media. Engage with their posts and share their stories
Tag your local favourite shops in your social media posts and share with your friends and online community groups
Take time to leave online reviews of businesses you love and spread the word by telling others about positive experiences
Show your support by signing-up to mailing lists to get the latest news and offers and share with others
These small steps are free and still make a big difference to local businesses.
Join our campaign
You can also help by joining the 'Love Ealing, Love Local' campaign and help us celebrate Ealing's high streets and local businesses. Getting involved is simple:
Visit and buy from your local high street, even something as small as buying a coffee or picking up something locally that you could otherwise buy online with a major retailor makes a big difference
Join in by using the hashtag #LoveEalingLoveLocal on social media
Tell us about your visit/s on social media, take a selfie enjoying a local business or of your new purchase and use #LoveEalingLoveLocal and tag @EalingCouncil on Twitter, @EalingLondon on Facebook and @ealingcouncil on Instagram.
Change your profile frame on Facebook
Use our social media card and frame templates for your own posts on Instagram, Facebook, and Twitter. You can also view the gallery to see what's available.