Acton Market has received National Lottery funding to add a climate action zone – to support local people to make greener choices, while also providing opportunities for 'green' jobs.
As we reported in November, the market planned on setting up a two-year project to help raise awareness of climate change, provide a spotlight for green businesses and also get residents involved in practical events and workshops, such as the regular reuse and repair activities for everyday objects run by Ealing Repair Café and the monthly BikeWorks stall that help people fix and upcycle their bicycles.
There will be free stalls offered to community organisations, local schools, colleges, universities and other organisations wanting to get practically involved in climate-related activity – from recycling more and reducing waste, to upskilling or training to find work in the 'green economy'.
The market is run by charity Action West London, which is itself based in Acton. Thanks to the money from The National Lottery Community Fund, the largest funder of community activity in the UK, Action West London will be able to fund a full-time member of staff. They will work in partnership with Ealing Council, local community groups and businesses.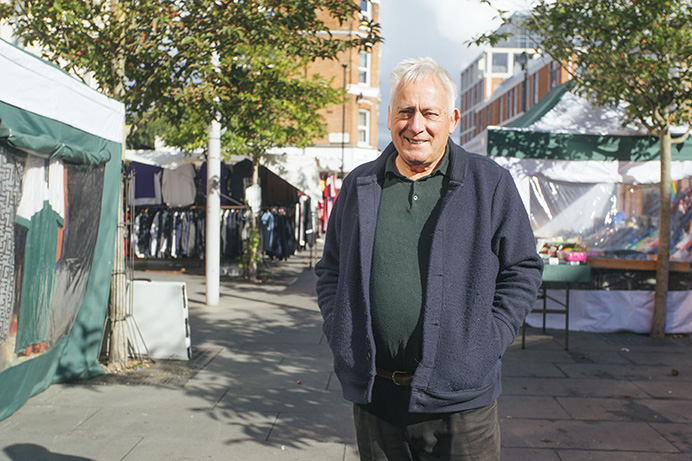 Dr John Blackmore, chief executive of Acton West London, said: "We are delighted to receive this vital funding thanks to National Lottery players. The grant will enable us and our partners to establish a climate action zone at Acton Market where local groups, businesses and organisations can have stalls to promote their reuse, repair and recycle activities. Everyone is welcome to join in."
Awareness, socialising and career opportunities
In November, Dr Blackmore told us: "It is the ideal place for people to engage people and help them to find out more about what they can do in a practical way in their own lives to fight climate change.
"We want to engage all sections of the community and the market has massive social benefits.
"It brings people together from all kinds of backgrounds in a safe, outdoor space. And it is a public and social space for people to go and chat and meet.
"This new climate action zone would also provide an opportunity for local people: Training opportunities, and job opportunities.
"As a charity, our mission is to change lives through providing opportunities for jobs and also helping enterprise and getting a chance of self-employment and that's one of the key drivers for this project. We are an active member of West London Business, which has a focus on green jobs, and there is also obviously an increasing priority across the community and beyond around tackling climate change."
'Communities have a big role to play'
Nick Gardner, head of climate action at The National Lottery Community Fund, said: "We know communities have a big role to play in responding to the climate emergency. That's why, thanks to National Lottery players, community-led climate action is bringing people together so they can learn from each other and have an impact within and beyond their communities. These projects will not only help us get to net zero, but also helps people and communities prosper and thrive."