Getting a bit more active as part of your routine is vital for maintaining good health and building fitness – but taking those first steps can be a bit daunting, particularly if you suffer from any issues around your day-to-day wellbeing.
That is why, at three leisure centres across the borough, bespoke support is being offered to residents with long-term health problems who want, or need, to increase their activity levels.
Local leisure provider Everyone Active runs exercise referral schemes on behalf of Ealing Council, allowing people to try activities in a supportive environment, working at their own pace to settle on an enjoyable and rewarding routine.
The programmes are delivered by qualified professionals and typically consist of 12 weeks of activities which can include gym-based activity, group fitness classes and swimming – all with the aim of improving physical and mental wellbeing.
'It is very inclusive'
Everyone Active staff member Austin Lumley was tasked with setting up the referral scheme just over five years ago. He sees people on the programme every day – who have all kinds of reasons for coming.
He said: "We have a really good mix of people here and it is very inclusive, which helps put everyone at ease. Some people can feel very intimidated before they arrive for the first time because they may have never been to a gym before, but they soon realise they do not have anything to worry about.
"There is a social aspect for many people. Some go for a tea with others on the programme and everyone gets on so well."
'So important'
The referral schemes can help people who suffer from conditions that either make it difficult to get active or, for whom activity would help their health. This could include diabetes, asthma, arthritis, depression, anxiety, osteoporosis, high blood pressure and for those who are overweight or obese. It is also helping people rehabilitate after suffering COVID-19.
Councillor Josh Blacker, the council's cabinet member for healthy lives, said: "It is so important that local people with long-term conditions are given opportunities to stay healthy through being active. I encourage anyone who thinks they might benefit to get involved."
'It changed my life'
Leigh Hayes from Hanwell (pictured above) started the scheme at Everyone Active Acton Centre for a second time after previously having to stop for health reasons. She explained: "I did it four years before and did really well, losing six stone in six months. It changed my life.
"This scheme is so important. I got depressed and quite lonely at home. But coming here helps with mental health as well as physical health. Everyone is so friendly and make you laugh so, by the time you leave, you always have a smile on your face."
'Everybody feels comfortable'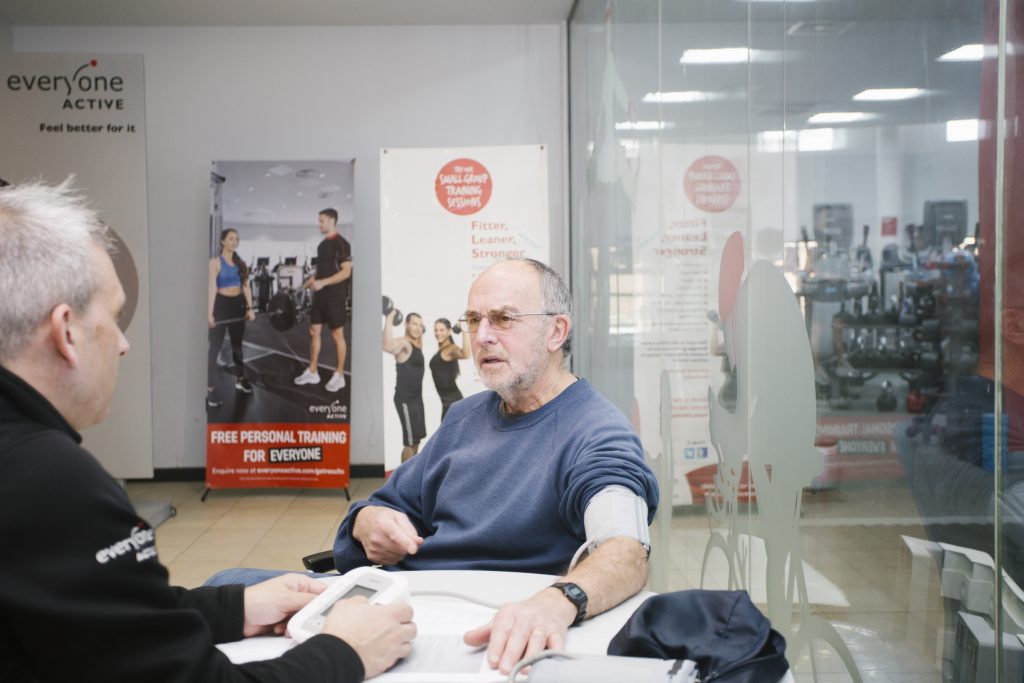 Keith Hatfield, 82, has a heart condition which had started hampering a previously very active, outdoor lifestyle. A few years ago, he and his wife also began attending the exercise referral scheme at Acton on the suggestion of his GP.
Keith explained: "My wife and I were referred by the GP and then we continued to come afterwards once the scheme ended because we were so pleased.
"It has made me very much more agile and supple, as well as maintaining a good level of fitness and enabling us to keep up our active interests – from camping and trekking to gardening at home and Tai Chi.
"It's been brilliant, and I'd recommend it to anyone. Everybody feels comfortable. It is a very friendly group and the staff are very encouraging and welcoming."
'It was absolutely brilliant'
Tim Dinsley of Ealing started going to Everyone Active Acton after being referred to the scheme by his GP three years ago, well before the pandemic struck, because of high blood pressure problems. He was on medication for that, and had developed a condition called Lymphedema, which came in the form of swollen legs.
"Never having been in a gym in my life, I had preconceptions," said Tim, 69. "But there was a complete cross-section of folk and there were people in the scheme there, too, of course. It was absolutely brilliant. They gave me achievable targets; plenty of support; and I lost weight and became fitter and healthier.
"However, when the lockdown struck, like lots of people, I lost my good intentions and my health suffered.
"So, once lockdown ended, I went back and I started to do an hour a day, five days a week. I've nearly undone the excesses of lockdown now. My blood pressure is down and I've lost weight again.
"It's not just the physical side but also the sense of wellbeing it gives you, too.
"You can very easily become isolated when you're retired but you make friends there, so there is a social element as well. In fact, to all extents, it's a community.
"Going back to when I first started, I was very, very unfit indeed and even struggled to get out of an armchair. My mobility is an awful lot better now.
"The great thing is that it's tailored to your particular, individual needs. You're not chucked in at the deep end. You're not given impossible goals – you make little, achievable steps which give you a little mental boost with each one you reach.
"I've just encouraged a friend with Type 2 diabetes to sign up and he's just started.
"I would encourage everyone to not worry about any preconceptions. I thought I'd look so out of place and that a gym was not my natural habitat but there are all shapes and sizes and all different abilities."
Find out more
If you are interested in joining the scheme, talk to your GP or healthcare professional for more information and a referral.
You can also now self-refer – if you are interested then email ealingcommunity@everyoneactive.com or ask at one of the following leisure centres: Dormers Wells, Everyone Active Acton or Northolt.
Mental health
London celebrated its first Great Mental Health Day recently to help shine a light on the support available locally for mental health.