Acton has always been fond of the building that sits on the corner of Winchester Street and the High Street.
Built at the turn of the 20th Century, the Grade II listed building was designed by famed British architect Maurice Adams FRIBA and was part-funded by philanthropist J Passmore Edwards. At the time, it was presented in the form of a gift to the town as The Library and contained some 8,000 volumes of literature.
In 1989, the library closed and remained disused until 2014 when Ealing Council opened it for potential community bids. In May 2018, the Acton Arts Project was formed, with the remit to expand culture in the community. It was successful in its bid to take over the building in November 2019 and, in April 2021, it took over the lease and got started on its plans to transform the venue into a cinema while restoring some of its original lustre.
After successfully applying for the Bright Ideas and Architectural Heritage fund, alongside investment and community donations, the project raised £115,000 in pledges from the local community and contributions from the council's ward forums for South Acton, East Acton, Southfield and Acton Central – and Acton BID.
Finally, in October, the Act One Cinema was officially opened with one 60-seat screen, a café/bar and a lounge area. There are plans to open a second screen later this year, to offer a wider choice of films. You can watch the video above to take a look.
'Amazing community spirit'
"There was a lot of buzz for a cinema to return to Acton," said Amanda Mason, one of the directors of Acton Arts Project.
"The old library was a focal point for the community and, when it closed, we were determined not to lose that hub. We had more than 100 volunteers coming in to transform the building into the venue that you see today. There's been an amazing community spirit and we're delighted with the results."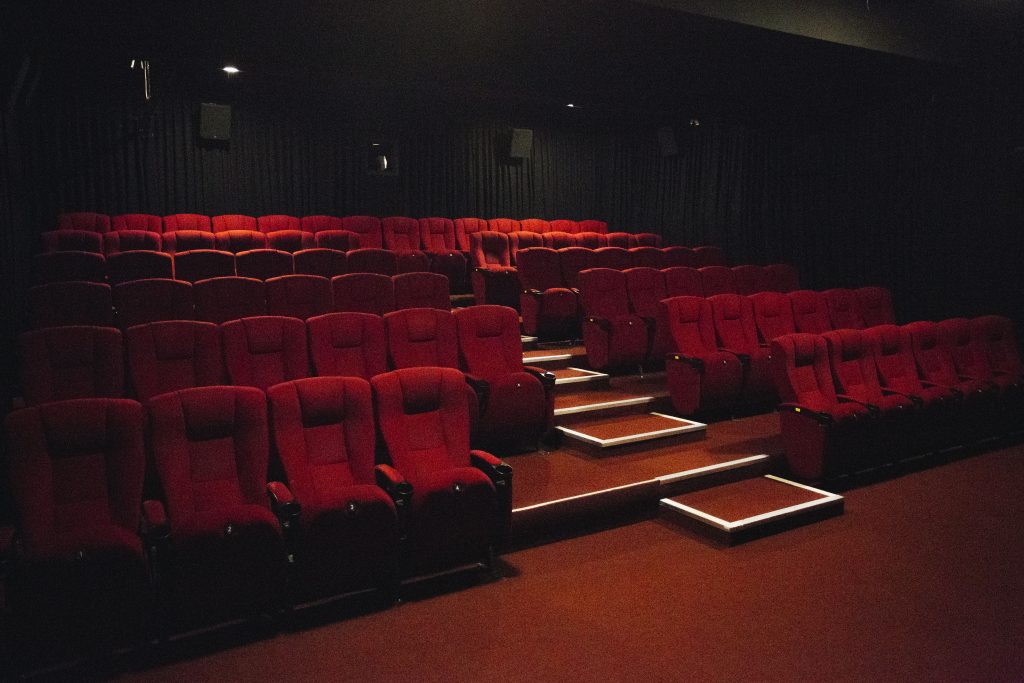 'You had to travel a long way'
Fellow director Nick Jones said the clamour for a community-led, pop-up cinema grew from a popular film club he and another director had been running for several years.
He said: "When the building became available, we decided that a cinema was really the best option for Acton because, whilst there are cinemas in Shepherds Bush and one planned for Ealing, there was a kind of desert in Acton. If you wanted to see a movie you had to travel a long way and there were a great number of people in the area who were interested in the idea.
"Once the pandemic struck, it became very clear that people became much more interested in having something on their doorstep, a local venue where they could walk to, instead of having to travel on a bus, tube or drive."
Your best bet – to make the most of your movie evening or date night at Act One – is to arrive early or stay late after your film. This place is more than just coming to view the latest Hollywood flick. They want you to relax, take your time and soak up the atmosphere.
"We didn't want a standard, multiplex experience," said Nick. "We wanted something more bohemian, more boutique I suppose, which is something that people seem to like. It's got a nice, informal feel to it.
"We've got a company called Bears, which operates the café, that produces the most amazing ice cream, so it's a really good night out when you come here."
'Friendly, warm experience'
To your right in the Act One entranceway lies the café bar, where you can order wine and spirits of your choice to accompany a fantastic range of cinema staples such as popcorn and a colourful selection of delicious ice cream. The café itself has been outsourced and is operated by the Bears Ice Cream Company, a family-owned business based in Acton which is renowned for its Scoop Club, Icelandic ice cream, Chilli Katz hotdogs and take-home tubs across several west London locations.
After ordering your refreshments, you are welcome to take your seat – but not in front of the screen just yet – but on one of the large leather sofas or several stools in the café or larger lounge area where you can gather with friends or connect with other film fans.
Nick said: "We wanted to create a friendly, warm experience so that, when people walk in, they're not only coming to see a movie, but they can relax, have a drink, have a bite to eat; the kind of place where you can sit and meet your friends and anticipate the film that's coming up.
"At the moment, we have a single screen which can seat up to 60 people with terrific sound and picture quality but we're aware that we need a second screen, and we need it fast. Our target this year is to open that additional screen by the summer and then we'll be able to offer a choice of programming, which gives us the chance to show children's films, art house films, more blockbuster films, more independent movies, giving people more of a choice of what they'd like to see."
'Exciting new era'
Councillor Jasbir Anand, the council's cabinet member for thriving communities, said: "We want our borough to be an even better place to live, visit and work and we believe the Acton Arts Project and it's team of volunteers have done a wonderful job of giving the former Acton Library building a new lease of life. They have taken it into an exciting new era and I'm sure Act One cinema will prove enormously popular and add significantly to the town's cultural and social life."
Councillor Shital Manro, cabinet member for good growth, said: "We want our town centres and high streets to continue to be focal points for our communities and the hub of opportunity for good jobs and growth. Act One cinema is the kind of project that helps to do exactly that – it enhances the town. And the upstairs floors of the building are being used by an independent training provider Global Skills, offering courses and other qualifications. The combined effect should contribute to the economic development of the area."