Gunnersbury Sports Hub is running free, weekly sports sessions for all residents who are in their 60s or older.
The Older Adults Open Sports Session takes place every Tuesday between 12.30-4pm at the sports centre in Gunnersbury Park, Popes Lane, which is jointly owned by Ealing and Hounslow councils and managed on their behalf by Better. It opened officially this year.
Anyone is welcome, whether you are a member or not, as long as you are a resident and are at least 60 years of age. The social sports session includes options for taking part in badminton, table tennis, basketball, pickleball and boccia. Teas, coffees and biscuits are also provided to refresh yourself.
'This has become one of my favourite activities'
Mary is in her 60s and a regular attendee. She lives in Ealing. She said: "This is a wonderful facility. Now I am able to play table tennis and badminton again after many years. The staff helped me so much after my first visit. Long may it continue."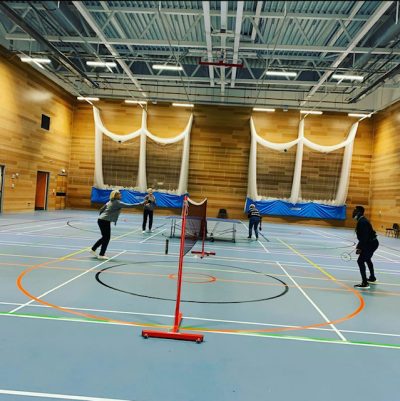 Diana, also from Ealing and in her 60s, said: "I also regularly attend the Tuesday afternoon senior sessions in the sports hall. This has become one of my favourite activities at the sports hub and I feel very lucky to be old enough to attend. It also rounds up my weekly fitness regime and provides a good aerobic work-out, as well as testing my eye-hand co-ordination skills through the various sports offered. In a typical 90-minute session I take part in table tennis, badminton and pickleball and will occasionally practice shooting hoops."
'It is a fun, relaxed environment'
"We are thrilled to offer this open sports session on Tuesday afternoons to local seniors," said Rob Ansell, the Gunnersbury Park Sports Hub general manager. "They are able to come with friends or meet new people, whilst taking part in their favourite sports or trying something new for the first time.
"The session started at the beginning of October and already we're getting more than a dozen attend each week, and it is growing every session as the word spreads. It gives older adults the opportunity to keep up their physical activity levels and have some much-needed recreation time, socialising with others, which is so important for mental health. It is a fun, relaxed environment and there is something for everyone. You can even come along and observe or enjoy a nice cup of tea, and chat with our staff."
How to join in
The session is free to attend for all. All you need to do is simply book each week via the Better UK app or in the centre itself by speaking to the concierge at reception. For more information, visit the Better website or visit the centre.