An award-winning celebrity photographer is currently exhibiting her stunning collection of pictures capturing people living on canal barges in our borough – and she is offering one lucky reader the chance to win a free portrait session worth £400.
Gill Shaw has lived in Ealing all her life and has been a leading photographer for more than 25 years –working with royals, celebrities, presidents and prime ministers. But also the general public.
She is an associate of the Master Photographers Association and patron of the Help for Heroes charity, and she is involved in a number of other charitable causes too.
The photographer currently has an exhibition called Through The Lens of Canal Boat Lives, which is running at the St Marylebone Art Space, St Marylebone Parish Church, Marylebone Road, NW1 5LT until 19 June. It is free to view and the gallery is open 9am-4pm seven days a week.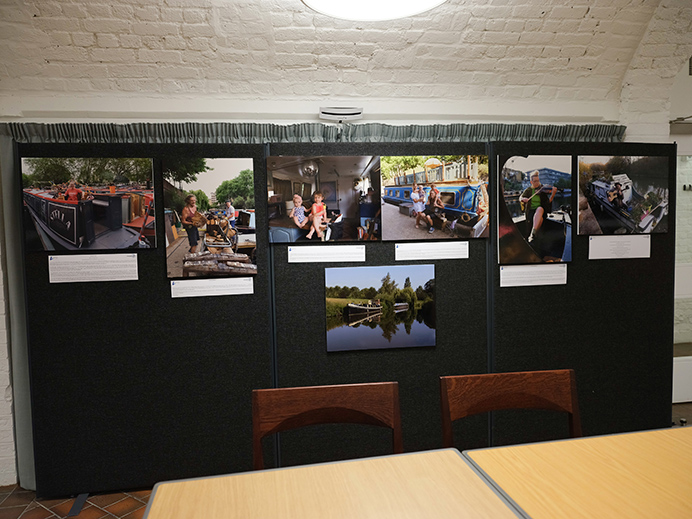 She said: "I've recently taken time out from photographing royal and media celebrities to focus my lens on some fascinating, and surprisingly diverse characters, who live and work on our wonderful hidden waterways. The one thing that unites them is the love for their off-grid lifestyle choice.
"All the photographs I have taken, and the stories which will go alongside them, are all fun and uplifting, and show the wonder of our waterways. The benefit to boaters, walkers, cyclists and wildlife is incalculable."
Long walks led to inspiration…
"Since COVID," continued Gill. "I, like so many people, found it difficult to switch off, and spent many hours walking along the Grand Union Canal in Hanwell, where it's always lovely to see the spring flowers, the tiny ducklings and cygnets… and the Grand Union Canal around Horsenden Farm, where you can walk to and then buy a fabulous coffee.
"So, this is where the idea for my new project came from – and I thought: 'wouldn't it be lovely to produce a project to show alternative lifestyles of the narrow boat community in London?'
"Once I started this project it took on a life of its own as I followed some of my new boating friends as they cruised around our canals. Many worked in or around the London area, some had projects and combined the creative challenges with adventures in their boats, others travelled extensively round the world for work and used their boat as their London base, a place of solace and peace amongst a unique community that understands the pressure of being part of an international, multi-time-zoned workforce."
'We love the community'
One example of the words captured by the photographer, comes with this picture at the top of this article, of Jake Thorold and Ele Gower, who said: "We love the community of people here – both on the moorings, and then all those involved in the activities which centre on Horsenden Farm. Within reach of our boat is a brewery, a bakery and a community run library. When not there, we are trying to find time for more instrument practice – Ele on the bassoon, and Jake on the guitar."
The competition
The winner would have one free portrait session with Gill at a mutually convenient time – either on your own, or as a couple, or as a family. The choice is yours. Plus, you would receive 4 photographs in cardboard frames (size 8"x10"). In all, the prize is worth £400.
All you have to do to have a chance of winning is to correctly answer the following question and send it by email, before the deadline, to aroundealing@ealing.gov.uk using the subject line: Photography competition. The deadline is 11.59pm on Tuesday, 6 June 2023. After the deadline has passed, a winner will be drawn out at random from among the correct entries sent to the correct place with the correct subject line. Only the winner will be notified/contacted and no monetary alternative is available.
QUESTION: Name the main canal that passes through the borough.
Photos
Photos are used with the permission of Gill Shaw and are copyright of Gill Shaw. See more of Gill's work on her website.