In a bid to help local people get moving despite the weather and the current financial challenges, an experienced fitness trainer is offering a free class for 10 lucky readers of Around Ealing – and exercise tips for everyone else to follow.
Doreen Whittaker has taught a wide range of personal clients, including members of the Royal Family. The Ealing resident of more than 40 years will be starting a beginners' pilates class at Ealing Central Library soon and has lots of classes people can sign up to online – and do at home.
She said: "I'm really looking forward to teaching in my local community, especially in the current climate. It allows people to still take part in group classes but without the worry of memberships.
"Research shows that, in winter, we see a 37% loss in exercise routine among people. Damp, dismal, dark days see running shoes stowed and unused. Now, with the cost of living skyrocketing, stretching our income is more important than ever. Sadly, our gym memberships are often first to go. However, in these challenging times, exercise is imperative to our wellbeing.
"The benefits of exercise include improvements to your mood, sleep, physical health, bone density and balance."
Doreen's top tips
So, how can we stay motivated, feel great, and exercise for free? Doreen recommends the following: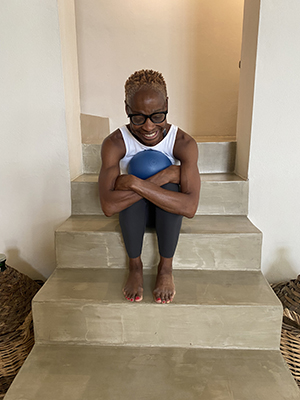 Make a plan. "It's usually easier if you have a goal. Try to exercise at least 150 minutes per week, distributed as suits your schedule, not necessarily every day. You want a balanced programme, so include some strength work, cardio, flexibility, mobility and balance. Maybe try teaming up with a friend?"
Online fitness. "Lockdown resulted in an explosion of free fitness online, so there's plenty of choice. Let these motivate and guide you. Enjoy the (virtual) group feel, at no cost, and in the comfort of your home."
Invest in some scrolling time. "Spend time looking for workouts you'll enjoy. If you enjoy it, you'll keep at it. Take into account any conditions you may have. Make sure the trainer is qualified in the discipline they are teaching – it will usually tell you in their bio. If you have any questions as to the suitability of a class, message them."
Free classes/workshops. "Fitness professionals give away lots of trial classes and free content, look out for their codes. It's a great way to try something new at no cost." See below for the chance to get free classes with Doreen.
Exercise snacks. "Short bursts of exercise have great physical benefits. If you can only get out for 15 mins, it's worth it to venture outdoors."
Doreen added: "Work at your own level and enjoy the feel-good factor. If you're looking for a place to start, visit @dwfitness_1 on Instagram for a range of free fitness and wellbeing content.
"For an extra challenge, head over to my website for classes, courses, and extended content."
Win a free class
The first 10 sign-ups to Doreen's classes to quote 'AROUND EALING' on her website will receive a free class.
Other online exercise ideas
During the pandemic, we ran an article with lots of other tips for finding exercise classes online.