Local artists are adding a pop of colour to public spaces across Northolt through a series of art installations.
Last year, a Visions for Northolt competition invited local creatives to submit art ideas to transform public spaces across Northolt. Four local artists were selected to develop their creative designs into unique art murals that captures their individual perspectives of the area and celebrates Northolt's diversity.
Match the artist to the artwork
The 4 artists have different artistic styles and techniques. Can you match the artist to the artwork based on these clues? Answers below.
Jane Ruhland is an environmental artist. Some of her more recent artworks are photographs of wildflowers, animal, and insect life in outdoor spaces and watercolour images of open spaces
Errol Donald is a pioneer artist who changed the face of graffiti art in the UK
Samira Mian specialises in drawing and painting Islamic geometric patterns
Lazfar – Levi Richards describes her signature style as 'cartoon like but with a slightly underground or edgy twist to it… often based on fantasy and feature animals or other creatures'
Find out more about the artists.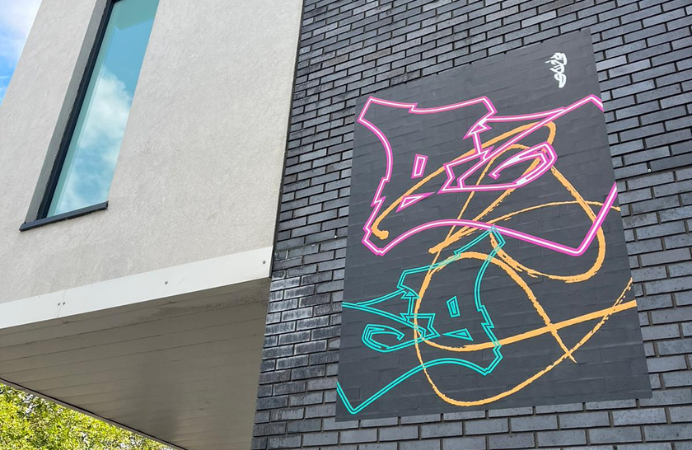 (Answers from left to right, art mural 1 is by Errol Donald, art murals 2 and 3 are by Jane Ruhland, art mural 4 is by Levi Richards and art mural 5 is by Samira Mian).
Artist-led walking tour
Join the Visions for Northolt team on Thursday 12 October, from 5pm to 6pm, at Northolt Leisure Centre Library for an artist-led walking tour to celebrate the launch of the art stops. This fun, informative, and engaging tour will give you an opportunity to hear more about their work.
You said, we did
Councillor Shital Manro, the council's cabinet member for good growth and new housing, said: "Local people wanted to see more public art and culture in the area. We listened. The Visions for Northolt team worked closely with the local artists to deliver these temporary art works across Northolt – I think the installations look amazing."
"This is just one of the many projects. You can find out more about the Visions for Northolt programme and projects at www.visionsfornortholt.co.uk".