What started out as a Lebanese restaurant known as Fakhreldine in Mayfair 1980 has now blossomed into one of the UK's leading artisan producers of specialist Mediterranean foods: Dina Foods.
As Fakhreldine became one of the hottest tickets in town, its owners had other plans. Their vision was to bring the flavours of the Middle East straight to consumers' homes and Dina Foods became an extension of their restaurant.
Next year, the company celebrates its 30th anniversary. Having grown from a small family-run business led by the Haddad brothers, it is now known as a market leader supplying national and international customers.
The business continues to go from strength to strength, under the gaze and direction of Wilda Haddad, daughter of one of its founders Souheil and now operates in three dedicated factory spaces in London's Park Royal. Family is the essence of the business and is an integral part of its foundation.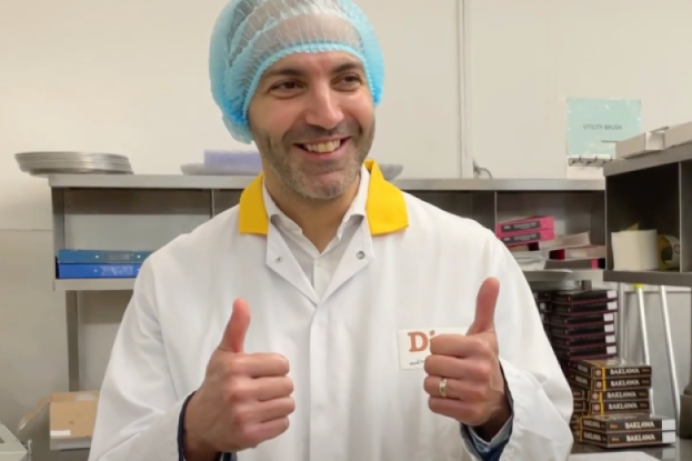 Today, its 'family' includes a workforce of around 180 staff and its products are sold across the UK and in 18 European countries.
But what makes Dina Foods a good Ealing employer? And how is it supporting the council's Plan for Good Jobs?
Watch the video as Councillor Bassam Mahfouz, Ealing's cabinet member for decent living incomes paid a visit to the company to delve into, not just delectable confectionery treats, but to understand how the business has a strong ethos for spotting talent, upskilling and training its workforce, whilst adapting to the effects of COVID-19.
Councillor Bassam Mahfouz said: "It was fantastic to meet Wilda and the team at Dina Foods and learn more about how they're running a large, global business out of the heart of Park Royal, all whilst sticking to their core values and remaining a great local employer. What was striking was that they were able to make no compulsory furloughs, which is remarkable given the fact that they're a major supply to the aviation industry which was grounded during the pandemic.
"Ealing is a fantastic place for good businesses like Dina Foods to thrive, and I can't wait to see how Wilda and the team continue to go from strength to strength after the pandemic."
Good jobs for Ealing
Ealing's Plan for Good Jobs is the council's action plan that sets out the short-term actions that are needed to help Ealing's economy recover from the pandemic. The plan sets out a number of key priorities for the council and its partners including helping residents into gainful employment by making it easier for them to find jobs, retrain and develop new skills for growth sector employment.