Ealing Council staff have been shortlisted in the prestigious London Borough Apprenticeship Awards 2022 which celebrate the exceptional impact apprentices have made across local government in London.
Two apprentices and an apprentice manager have been recognised in three categories – best contribution by a new apprentice, best progression by an apprentice and best manager or mentor.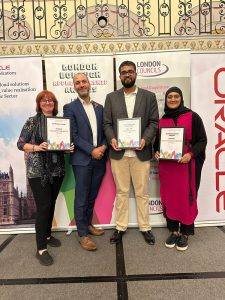 Congratulations to Sahib, Mah-jabeen and Tracey who attended the awards ceremony on 4 November 2022 at Plaisterers' Hall in the City of London together with Councillor Bassam Mahfouz, Ealing Council's cabinet member for decent living Incomes.
Meet the nominees
Sahib joined the council as part of the Kickstart scheme, which he excelled at. He then progressed to a level 3 apprenticeship at the council's employment, learning and skills team. Sahib was nominated for this award because of his outstanding communication, organisational and customer service skills, ability to show initiative and going above and beyond his role supporting colleagues, local employers and residents alike.
Mah-jabeen started an apprenticeship with one of council's partners after being out of work for 20 years and is now a level 3 receptionist administrator apprentice at Ealing Council. Her excellent organisation skills, positive attitude, friendly approach, accountability and commitment to residents' wellbeing shine throughout her apprenticeship. Mah-jabeen is a great example of how apprenticeships are a great route for adults too.
Tracey, a team leader, has managed several apprentices during her time at the council, becoming an excellent example of how to support those with little or no work experience. She was nominated for the award due to her enthusiasm and management skills, offering continued support, guidance, training and encouragement to her apprentice during the pandemic – a challenging time for apprentices working from home.
Good jobs for Ealing
Councillor Peter Mason, leader of Ealing Council: "Congratulations to our three colleagues. We are incredibly proud of them and consider them winners already, as well as incredible assets to Ealing Council providing great public services to our residents and businesses.
Councillor Bassam Mahfouz, Ealing Council's cabinet member for decent living Incomes: "We have been promoting the value of apprenticeships both at the council and with Ealing residents and businesses as a great route into the workplace or for starting a different career.
"As per our Good Jobs for Ealing, we are committed to securing 2,000 new diverse apprenticeships, both at the council and with local employers. In fact, we have currently available apprenticeship roles at the council, so have a look and apply. We would love to welcome you. Who knows, next year you can be in Sahib, Mah-jabeen and Tracey's place and be shortlisted for an award."
London Councils received strong calibre of 63 submissions across all six categories, of which 25 were shortlisted.
Need help finding an apprenticeship?
Visit Work Ealing's apprenticeships zone to learn more about apprenticeships. If you need help finding an apprenticeship – whether at the council or with a local employer – get in touch with our apprenticeships team.