The Forge@ParkRoyal is a collaborative support, recruitment and upskilling service that connects local jobseekers with businesses across three West London boroughs – Brent, Ealing and Hammersmith & Fulham.
The hub is being delivered in partnership between Ealing Council, the Old Oak and Park Royal Development Corporation (OPDC), Brent Council, Hammersmith and Fulham Council, West London College, the Shaw Trust and the Department for Work and Pensions.
Access employment and skills opportunities
The Forge@Park Royal can help you with:
Free access to vacancies with Park Royal businesses, HS2, its' contractors and others created by the major development coming to the area
One-to-one advice and guidance to find work
Training and the opportunity to work with training providers to upskill and prepare you for employment.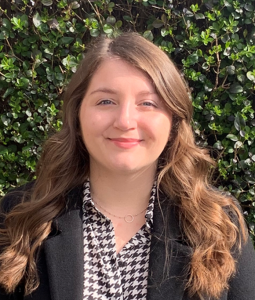 Meet Niamh
Niamh is among the 52 Ealing residents helped into work so far by the Forge@ParkRoyal since April 2020. Niamh is an HR coordinator at Balfour Beatty, Vinci and Systra (BBVS).
"The Forge played a crucial role in landing my position. I was struggling to find a job after the pandemic. The Old Oak Common project will leave a lasting legacy in the local area and I'm honoured to be part of such a great team. I've learnt so much and had so many opportunities in such a short space of time. I'm looking forward to developing my skillset even more and to one day walk past the completed station and know I was a part of it."
There are many current and upcoming employment and apprenticeship opportunities in construction with BBVS, the joint venture that is building the new Old Oak Common HS2 and Elizabeth Line station, as well as such provided by major developments coming to the area.
Personalised help for businesses
There is also support available to the 1,700 small to medium sized businesses in Park Royal. Your business can receive:
Dedicated advice and support, including on government grants, apprenticeship schemes, COVID-19 recovery and growth, HR and Brexit matters
One-to-one support, webinars and workshops to help your business to recover, grow and prosper
Free personalised recruitment help, including advertising your job vacancies on their website.
Councillor Bassam Mahfouz, cabinet member for decent living incomes comments:
"As outlined in our Plan for Good Jobs, key priorities for Ealing Council is to support residents into good well-paid jobs while also helping to protect, nurture and expand local businesses.
"It's great to see the difference that Forge@ParkRoyal are making helping both residents and businesses to grow and look forward to seeing more people follow in Niamh's footsteps and thrive. Partnership like these are an essential part of helping Ealing residents fulfil their full potential."
David Lunts, CEO of the OPDC said:
"The Forge@ParkRoyal has helped over 130 local people like Niamh into well-paid jobs, collaborating with a range of businesses from small start-ups to large household names, finding exciting opportunities locally for people of all ages and skillsets.
"Protecting and enhancing existing businesses, while attracting new ones to the area, is central to our regeneration plans for a welcoming, accessible and thriving place for all who live and work here. The Forge@ParkRoyal is already making a positive impact and demonstrates what collaborative working with our local partners, including Ealing Council, can do."