A recently published book looks at two local churches designed by a renowned architect. And we have a copy of the book to give away in a competition. Author Diana Beckett told us more about the churches.
St Barnabas, in Pitshanger Lane, Ealing (pictured above); and St Gabriel's, in Noel Road, North Acton; were built in the Neo Gothic style, between 1911 and 1935, and were both the work of Ernest Shearman.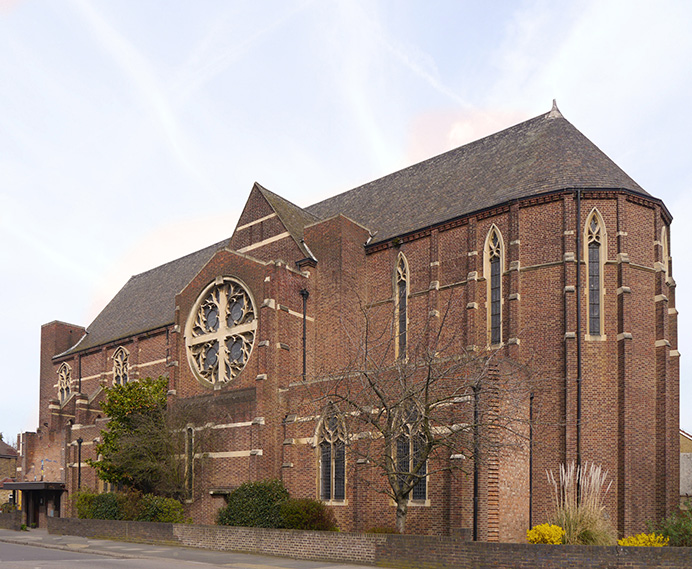 Shearman was described by English Heritage as 'one of the best exponents of creating monumental spaces out of simple materials.'
He was also responsible for the nearby St Francis of Assisi in Great North Road, Isleworth. And, despite being only a few miles apart, it is not generally known that they were all designed by the same man. Along with three other churches he designed elsewhere in London, all six are remarkably similar: Sisters with a strong family resemblance, all magnificent buildings still standing out in their neighbourhoods, thriving today and serving their local communities
The recently published book (Ernest Shearman, Ecclesiastical Architect) explores how his distinctive and personal design was influenced by the red brick medieval churches of northern Italy as well as the Gothic Revival and Arts and Crafts movements of his day. The interior of his churches were particularly imposing, austere yet simple, the pale red brick Gothic arcades contrasted against plain white rendered walls, reflecting the churches of the 13th Century Italian friars.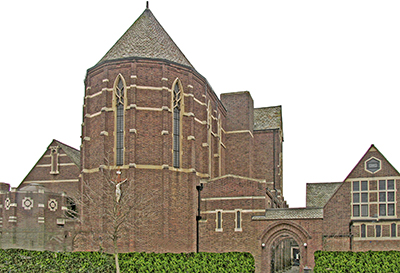 As a young man, Shearman studied under two of the greatest architects of the day, GE Street and Norman Shaw. He was articled for several years to another eminent architect, Charles Barry Jr, with whom he travelled in Italy – where he was so impressed by their simple Gothic style. The book not only describes the historic architectural background to his work, but also the religious context – all the churches were built for Anglo-Catholic worship – as well as the social environment of the emerging mainly working class neighbourhoods, as London expanded and new suburbs were built.
My family home in Winchester, designed by Shearman for himself, was the inspiration for my research. I discovered that many elements of the house I knew so well are practically a textbook for the Arts and Crafts style and are almost identical to those in some late 19th Century grand houses.
In addition to adding to the documented history of Ealing and the Greater London suburbs, for those with less knowledge of architectural history, this book could also be a concise and sympathetic introduction to a fascinating subject. More than a hundred colour photographs help to beautifully illustrate each church in detail, with full pages of examples from the Middle Ages to the 20th Century clearly demonstrating the background that prompted Shearman's style.
Competition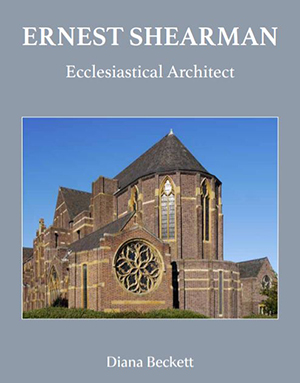 Thanks to author Diana, we have a copy of Ernest Shearman, Ecclesiastical Architect to give away to a lucky winner. To be in with a chance of winning this copy of the book, you must correctly answer the following question and send it in by email before the deadline (see below) to aroundealing@ealing.gov.uk with the subject line Church history book (a different subject line might result in your entry not being counted): Who built the estate that surrounds St Gabriel's, North Acton?
You must enter before the deadline of 11.59pm on Monday, 5 December 2022. No monetary alternative is available. Only the winner will be contacted and notified. Please include your postal address in your competition entry, to enable the book to be sent to you if you win.
If you are not lucky enough to win the book, it is now available in paperback on Amazon.