Ealing Council is working with University of West London's Fresh Minds for Business to launch Greener Horizons during Climate action week (25 June to 3 July). This is a programme for up to 200 micro-businesses to understand, measure and reduce their carbon footprint.
Ealing Council declared a climate and ecological emergency in April 2019 and committed to becoming carbon neutral as a borough and a council by 2030. If Ealing is to meet its goal for carbon neutral by 2030, businesses, which contributed around 33% of carbon emissions in the borough in 2018, need to come on board and be part of the solution.
Small local businesses are invited to track and record their carbon emissions using the free carbon emissions calculator tool and make positive changes to the environment through recommendations made by Fresh Minds for Business. Signposting to appropriate funding sources will also be provided.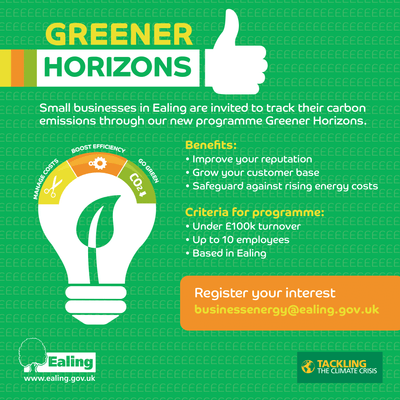 Benefits of the Greener Horizons programme include:
Improving your reputation
Growing your customer base
Safeguarding against rising energy costs
To sign up, you'll need to meet three criteria:
Have an annual turnover of under £100k per annum
Employ up to 10 people
Be based in Ealing
To register your interest in this exciting opportunity, please email businessenergy@ealing.gov.uk.