To celebrate International Compost Awareness Week (1-7 May) and to encourage more residents to try home composting, we are giving away ten compost bins to residents in this competition.

Composting is an environmentally friendly way to recycle your kitchen and garden waste. It acts as a natural fertiliser and is full of nutrients to feed your garden and helps to retain moisture in dry weather conditions.
The 2022 theme for International Compost Awareness Week is regenerative agriculture – recycling our food scraps and garden trimmings in composting and when added to gardens, allotments, and farmland, creates healthier soils and more nutritious food, less carbon in the atmosphere and ultimately to a cleaner and greener planet.
You can save money and make your own compost in your garden by using a discounted compost bin. We continue to provide compost bins at great value, priced from £22 for Ealing residents from www.ealing.getcomposting.com.

The bin is delivered to your home and comes with a handy user guide.
Did you know that as well as garden waste and uncooked food waste, you can compost shredded cardboard, paper and newspaper?
At least 30% of contents in the average household bin can be composted. There are many everyday waste items from your home and garden that can be added for composting.
Getting the right balance of composting materials
Compost is produced by alternating layers of some of the items listed below. Aim to get 25 to 50% of 'greens' and the remainder of 'browns' for the bacteria and micro-organisms that produce compost that functions best.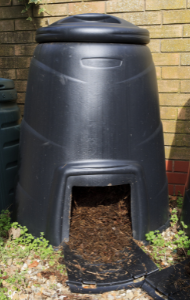 GREENS
Grass cuttings
Weeds
Old flowers
Fruit and vegetables peelings
Tea bags, coffee grounds and filter paper
Vacuum cleaner dust
Tissues and paper napkins
BROWNS
Prunings and hedge trimmings
Woodchip
Leaves
Newspaper and cardboard (scrunched up)
Shredded confidential documents
Egg shells and boxes
The green items contain bacteria that generate the initial heat required to start things breaking down. Mixing in some brown items will prevent the contents from becoming too sludgy and smelly.
Make sure to turn the heap, ideally once a month, which adds air to the mix for composting to occur. If the heap is not loosened up or is too wet, the composting process is slower or even gives poorer results. The end product should be dark brown, with a crumbly soil-like texture.
How to enter the competition?
To be in with a chance of winning a compost bin, you need to correctly answer the following question and email it to aroundealing@ealing.gov.uk by 11.59pm on Tuesday, 31 May 2022. Make sure you use the subject line: Compost bin competition or your entry may not be included. Competition is open to residents only. Please state your postal address, so that if you are one of the ten lucky winners, the bin can be delivered to your home. Only the winners will be notified. No alternative prizes are available.
Question: What is the percentage of the average household bin that can be composted?
More advice on how to give composting a go at www.ealing.gov.uk/recycling